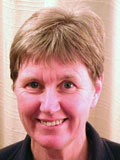 Name: Janine McVeagh
Date of birth: April 1946
Place of birth: Napier
Now living in: Rawene, Hokianga
What is your favourite food?
Lots of things: hot vege curries, raw vegetables like carrots, tomatoes and cucumber, all fresh fruit, chocolate.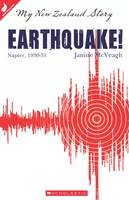 Do you have a nickname and if so what is it?
Not really. I did have as a child, but not since. I'm not telling you my childhood one!
What was your most embarrassing moment?
Having to walk along Ponsonby Road at morning rush hour in my (see-through) nightie after my car broke down…
How do you relax?
Reading (of course), gardening, cycling, talking and playing games with friends; we have German friends with a huge number of very complicated board games and we play Scrabble with other friends.
Who inspired you when you were little?
I think my father first, he used to take me to work with him in his truck and would tell me stories and play number games as we drove along. I thought he knew everything! My grandmother, who died when I was five, was also an inspiration to me.
What were you like at school?
Good at the work but always in trouble for talking too much or talking back when I didn't agree with something.
What was your favourite/most hated subject at school?
I liked everything but my favourite subjects in high school were French and Latin. I hated dressmaking.
What was the book you most loved as a child?
Heaps! Not just one. I read Treasure Island by Robert Louis Stevenson several times. I loved adventure books and horse books. Black Beauty by Anna Sewell was another favourite. And Anne of Green Gables by L.M. Montgomery.
Which person from the past would you most like to meet?
That's a hard one! At the moment I'm researching Priscilla Wakefield, so I'd love to meet her. And Mary Wollstonecraft.
Who is your favourite author/children s author?
Another hard one that changes often. Margaret Atwood. Margaret Mahy, opens a new window.
Why did you want to be a writer?
I don't know really. I always liked writing things, stories, essays, letters, articles. Then one day I sent off a letter to a magazine and back came a cheque with a request for more 'articles'. So perhaps it was realising that I could actually write and be published that made me do it more consciously.
Do you have a special place where you write your books?
I did, but at the moment my computer is in the corner of the everything room. I am really looking forward to our building being finished so I can have a room of my own again.
What's the best thing and worst thing about being a writer?
For me, the best thing is sitting there and the story is just rolling out. The worst thing is not being able to do that, either it just isn't happening or someone else is using the computer or demanding attention.
If you weren't a writer, what would you like to be?
I have been lots of things but my paid job is my dream job: I teach other people how to write over the internet.
What advice would you give to aspiring writers?
Keep writing, don't give up too soon. Remember you will have to rewrite to improve your work.
Read some books by Janine McVeagh
Read posts featuring Janine McVeagh from the Christchurch Kids Blog.
This interview is from 2010.