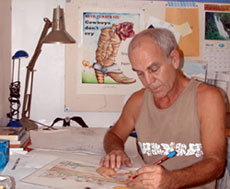 Name: John Tarlton
Date of birth: 19 April, 1950
Place of birth: Long Beach, California, USA
Now living in: Los Angeles, California
What is your favourite food?
Anything Mexican.
Do you have a nickname and if so what is it?
Yes. It is Jack.
What was your most embarrassing moment?
I can't think of any.
How do you relax?
I like to bodysurf, paint pictures and read.
Who inspired you when you were little?
Walt Disney.
What were you like at school?
I was a good academic student. I never played organised sports. I had some very good friends. I organised a poetry club.
What was your favourite/most hated subject at school?
Favourite: Art and English
Most hated: Math and Sport
What was the book you most loved as a child?
Huckleberry Finn, by Mark Twain
Which person from the past would you most like to meet?
Leonardo da Vinci
Who is your favourite author/children's author?
Favourite poet - Kevin Ireland
Favourite children's author - Gaelyn Gordon
Why did you want to be a writer?
Because I had a lot of stories I wanted to share.
It also allowed me to illustrate them.
Do you have a special place where you write your books?
Yes. I have a studio in my house where I write and paint. I also like to write in quiet places which I often find in public libraries.
What's the best thing and worst thing about being a writer?
Best: to talk to people who like my stories/illustrations.
Worst: when I can't find the time to write and illustrate.
If you weren't a writer, what would you like to be?
As I am already an illustrator, I would like to be a professional lifeguard on an ocean beach.
What advice would you give to aspiring writers?
Keep a notebook and jot down everything interesting that happens to you, so when you have a chance to write, you already have something to write about.
Read some books by John Tarlton
This interview is from 2002.