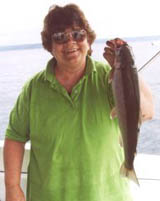 Name: Joy Cowley
Date of birth: 7 August, 1936
Place of birth: Levin, New Zealand
Now living in: Fish Bay, Kenepuru, Marlborough Sounds
What is your favourite food?
Ice cream, kai moana
Do you have a nickname and if so what is it?
The Old Trout
What was your most embarrassing moment?
Recently I said "Thank you" to an ATM machine.
How do you relax?
Spinning and knitting, painting, gardening, fishing, reading, playing the piano, listening to music.
Who inspired you when you were little?
My grandmothers, some of my teachers.
Quiet, lacking in confidence and slow at learning. But I was good at drawing.
What was your favourite/most hated subject at school?
My most hated subject was sport because I was very clumsy. My favourite subject was art and, later, story writing.
What was the book you most loved as a child?
Snugglepot and Cuddlepie, opens a new window by May Gibbs
Which person from the past would you most like to meet?
The composer Frederic Chopin.
Who is your favourite author/children's author?
My favourite adult author is Annie Dillard (US).
My favourite children's author is Margaret Mahy, opens a new window.
Why did you want to be a writer?
I didn't. Writing was like breathing - something I always did while I was thinking of other careers.
Do you have a special place where you write your books?
Now I have my own office - it has all my favourite things in it - children's art, my electric train set and my kaleidoscope collection.
What's the best thing and worst thing about being a writer?
The worst thing is sitting inside on a sunny day. The best thing is a letter from a young friend.
If you weren't a writer, what would you like to be?
An artist
What advice would you give to aspiring writers?
Write something everyday if you can. Also read a lot. Writing and reading go together like the right shoe and the left shoe.
Read a short story by Joy Cowley, opens a new window
Read some books by Joy Cowley, opens a new window
More information about Joy Cowley, opens a new window
Joy's official website, opens a new window
Read posts featuring Joy Cowley, opens a new window on the Christchurch Kids Blog, opens a new window.
This interview is from 2002.