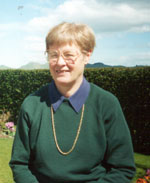 Name: Joy Watson
Date of birth: 21 February 1938
Place of birth: Gisborne
Now living in: Havelock North
What is your favourite food?
Just about anything cooked by someone else. Roast pork with apple sauce; chocolate.
Do you have a nickname and if so what is it?
No nickname, except "Gran" from all my grandchildren.
What was your most embarrassing moment?
I once stepped backwards and fell from a stage in front of a school assembly during a school visit in Tauranga. I wasn't hurt, but the children in the band behind me were surprised.
How do you relax?
By reading a good book, or walking by the sea.
Who inspired you when you were little?
My parents. My father left school at 12, but continued to educate himself. He read and wrote and was interested in everything. My mother was calm and adaptable (still is at age 96). They both worked hard and laughed a lot.
What were you like at school?
Just ordinary. I liked school and was often in trouble, but not for serious things.
What was your favourite/most hated subject at school?
Favourite subject: English.
Worst subjects: Science (I couldn't understand it) and Maths (I got more wrong than right), but I didn't hate them.
What was the book you most loved as a child?
It's hard to remember, as I read so many. I loved Milly Molly Mandy, by Joyce Lankester Brisley, when I was very young, and Anne of Green Gables, by L. M. Montgomery, later.
Which person from the past would you most like to meet?
Katherine Mansfield … I love her writing.
Who is your favourite author/children's author?
I honestly don't know. It keeps changing each time I read yet another good book.
Why did you want to be a writer?
Because I love reading, I love words and what can be done with them, and I enjoy writing.
Do you have a special place where you write your books?
Not really. I have a spare room where I set up my typewriter after the story has been written (many times) by hand. One day I'll have a proper writing room with a computer … which I'll then have to learn to use.
What's the best thing and worst thing about being a writer?
Best things: Getting a good idea to work on; having a story accepted; visiting schools.
Worst thing: being unable to think of something to write about.
If you weren't a writer, what would you like to be?
I used to be a school dental nurse and I enjoyed that. Now I am a wife (of Grandpa!), a mother and a grandmother. What more could I want? Writing is an extra bonus, not a full time job.
What advice would you give to aspiring writers?
READ! If you are not a reader you'll find it hard to be a writer. Take notice of words, their spelling and their meanings. Be aware of grammar and sentence construction. Listen to criticism and learn from it. And HAVE FUN with your writing.
Read some books by Joy Watson
More information about Joy Watson
This interview is from 2002.