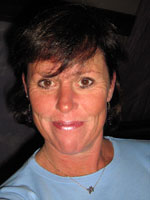 Name: Julie Folkers
Date of birth: 29 August 1962
Place of birth: Christchurch
Now living in: Christchurch
What is your favourite food?
Thai.
Do you have a nickname and if so what is it?
Jewels.
What was your most embarrassing moment?
I fell asleep on an international flight and my head was off to one side, I awoke to find I had dribbled out the corner of my mouth and onto my shirt.
How do you relax?
I like to swim.
Who inspired you when you were little?
A good girl mostly, I was a top athlete and gymnast and an avid hockey player.
What was your favourite/most hated subject at school?
My favourite subjects changed over the years, in the 6th form it was history, in the 3rd form it was geography. I probably hated French in high school.
What was the book you most loved as a child?
The Illustrated Treasury of Children's Literature.
Which person from the past would you most like to meet?
There are few I would like to meet.
Who is your favourite author/children's author?
I love J. K. Rowling.
Why did you want to be a writer?
I always said I would love to write kids books and when I was in my 30s I got very sick and I re-trained and decided to follow my dream of being a children's author.
Do you have a special place where you write and illustrate your books?
Yes, I have my office where I have it all set up to write, it's full of toys and books and is my space.
What's the best thing and worst thing about being a writer or illustrator?
I find now I get a bit lonely working at home on my own and at times I crave a bit of adult company and an adult conversation.
If you weren't a writer, what would you like to be?
A diplomat.
What advice would you give to aspiring writers or illustrators?
If you have the urge to do it then follow your dream.
Read some books by Julie Folkers
This interview is from 2002.