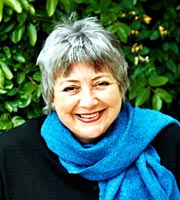 Name: Julie Leibrich
Date of birth: 10 November 1947
Place of birth: Manchester
Now living in: Raumati
What is your favourite food?
Cheese with anything.
Do you have a nickname and if so what is it?
I had a nickname at primary school everyone did. My maiden name was Halstead and my nickname was "Bedstead".
What was your most embarrassing moment?
Are you serious?
How do you relax?
Walking by the beach, gardening, playing the piano, painting, watching TV, going to the movies and singing in a choir.
Who inspired you when you were little?
My older brother Tony is a great musician and he inspired me to be really good at something. My mum used to take us to museums and art galleries which I also found inspiring. I also wrote a lot of letters as a child and hearing about different countries and customs inspired me to travel the world. I also sometimes wrote letters to people I admired and getting a reply was great. I still treasure a letter I got 40 years ago from John Masefield advising me how to write poetry. When I got to secondary school I had some fantastic teachers. One in particular, called Jessica Crossfield, used to get the class talking about something and then let us "range free" for maybe half an hour. Then in the last ten minutes we had to trace the entire discussion back and point out all the links and connections in the ideas. This was wonderful training for how to think. And it was an unusual way to teach back then.
I suppose I was a goody-two shoes really. At primary school, I was well behaved because I was scared of getting the cane. At high school, I was well behaved because I just adored learning and wanted to get on with it. I was a bit of a swot and lousy at sports but I loved drama and debating and editing the school magazine. I was Head Girl.
What was your favourite/most hated subject at school?
Favourite History. Most hated Chemistry
What was the book you most loved as a child?
Peter Pan by J. M. Barrie.
Which person from the past would you most like to meet?
Who is your favourite author/children's author?
Favourite poet? Oh, so many. Emily Dickinson, opens a new window, John Donne, William Shakespeare, opens a new window, Pablo Neruda, opens a new window, Tony Harrison, opens a new window, Favourite novelist? Gabriel Garcia Marquez, opens a new window. Favourite children's author? Roald Dahl, opens a new window.
Why did you want to be a writer?
It was a way to express what I felt and thought. Also I just adored words. They seemed mysterious and powerful to me.
Do you have a special place where you write your books?
Not really. I tend to write prose on the computer in my study and poetry by hand anywhere.
What's the best thing and worst thing about being a writer?
The best thing is finding out, through writing, things you didn't even know you thought and felt. The worst thing is when the publisher has sent the manuscript to the printer and you start to think about things you want to change.
If you weren't a writer, what would you like to be?
I'd like to have been a blues singer in a nightclub.
What advice would you give to aspiring writers?
Write for yourself! Put aside any "must"s, "should"s and "ought-to"s until the words are down on the paper. Don't criticise yourself as you write. Just write. Later, when you've got the words down, leave it alone for as long as you can bear and then take your time to look at it again and again. See what you could do to make it better. Remember that it's precious and belongs to you. But once you show to other people it belongs to them too. It's like a gift.
Read some books by Julie Leibrich
More information about Julie Leibrich