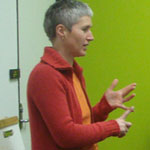 Name: Leonie Thorpe
Date of birth: 07 July 1969
Place of birth: Christchurch (I grew up in Lyttelton)
Now living in: St Martins, Christchurch
What is your favourite food?
I eat anything except broad beans but my absolute favourite would have to be liquorice allsorts, especially the English brand, Bassetts. Yum!
Do you have a nickname and if so what is it?
Most of my friends and family call me Leo.
What was your most embarrassing moment?
I must have repressed most of the really bad ones, but I suppose falling over at my university graduation would rate up there.
How do you relax?
Buddhist meditation, gardening (I get a real sense of satisfaction growing vegetables, berries and fruit in my garden. I think I've perfected peas and silverbeet, but I've never had much luck with carrots).
Who inspired you when you were little?
Back in the seventies when I was little, we watched a heck of a lot of television. The Goodies was a British programme which I believe introduced me to really good comedy. (In one episode they travelled around the whole world on moonhoppers!) It is rare to laugh at something so much that tears are running down your cheeks and your stomach and face start to ache. I still watch The Goodies on DVD and find it funny now.
Quiet but confident. Probably a bit of a nerd.
What was your favourite/most hated subject at school?
I liked maths and reading, but I can't say I had a natural talent for writing. I was really good at shorthand typing at high school (it was in the days before computers!). My least favourite activity at school was swimming lessons; I could swim okay but the pool was outdoor and unheated... Brrrrrr! I can still feel the goosebumps.
What was the book you most loved as a child?
Two books come to mind. One was The Faraway Tree by Enid Blyton, which I believe is still around today. The other was called The Great Ghost Rescue which was written by (I've just found out via Google) Eva Ibbotson in 1975.
Which person from the past would you most like to meet?
Buddha. He was a very wise and kind man who worked out how we can all be happy, all the time. I would have to travel back about 2500 years!
Who is your favourite author/children's author?
I grew up on a diet of Enid Blyton and loved all her stories. Now I'm reading a lot of children's picture books to my toddler and rediscovering Dr Seuss. I also like Quentin Blake and Roald Dahl.
Why did you want to be a writer?
I wasn't always a writer. I worked as a scientist in microbiology for nearly 15 years, studying bacteria, fungi and parasites. It was a really interesting job. However I'm a bit of a daydreamer, and I noticed a growing number of narrative voices in my head that begged to materialise as stories, so I took up writing. It's a lot more fun and rewarding and there are no parking hassles either.
Do you have a special place where you write and illustrate your books?
I'd love to have my own dedicated room but at the moment I just have a corner in the lounge. It sometimes gets a bit cold, sitting and typing for long periods, so I tend to wear gloves and scarf and hat in the winter; I look like I'm dressed to go skiing!
What's the best thing and worst thing about being a writer or illustrator?
I really enjoy being able to meet and talk with children about reading and writing. I also enjoy reading books or sitting and watching people and getting to call it 'research'. The only downfall of working by yourself is not having any workmates to chat with at lunch time.
If you weren't a writer, what would you like to be?
As a teenager, I always fancied the life of a rock star, but was thwarted by a lack of talent in both singing and guitar playing. If I didn't write, I think I would like to be a counsellor, and help people overcome their worries and problems and find happiness.
What advice would you give to aspiring writers or illustrators?
Have a clear idea, before you start your story, of where it is going to end up. That way you will avoid going around in circles or roaring off into No Man's Land.
Read some books by Leonie Thorpe
Read posts featuring Leonie Thorpe from the Christchurch Kids Blog.
This interview is from 2010.