Name: Linda McNabb
Date of birth: 16 August 1963
Place of birth: Rutland, England
Now living in: Auckland
What is your favourite food?
Chocolate!
Do you have a nickname and if so what is it?
There have been a few nicknames over the years but none have ever stuck (thankfully). Most of my friends call me Lin.
What was your most embarrassing moment?
I have a few of them and they are all due to my shocking memory. I often see people who greet me by name and I usually have no idea where I have met them. I usually remember their name just as they walk away!
How do you relax?
I sit somewhere quiet (hard to find at times) with a good book or I go for a walk alongside a creek on the reserve.
Who inspired you when you were little?
Other writers. The more books I read the more I wanted to write.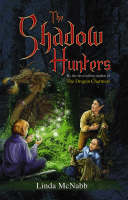 What were you like at school?
I was a bit of a dreamer. When a subject didn't really hold my attention I wandered off into my own imaginary world. This didn't help much when it came time to do the tests though!
What was your favourite/most hated subject at school?
I didn't actually hate sports but I wasn't very good at physical activities so I used to dread going.
I loved art and always enjoyed it even though I had no outstanding talent.
What was the book you most loved as a child?
I don't think I can narrow it down to just one. I had a shelf full of my favourite books. There are a few I still have so they must have been my favourites. Two of them are The Wizard of Earthsea, opens a new window by Ursula Le Guin, and Elidor by Alan Garner.
Which person from the past would you most like to meet?
Both Roald Dahl and Enid Blyton, opens a new window. They had so many wonderful ideas that gave hours of pleasure to so many children (including me).
Who is your favourite author/children's author?
Again it's hard to pick one favourite but since I have all of Anne McCaffrey's, opens a new window books I guess she's top of the list for adults. Children's author though is harder as there are so many great ones. Roald Dahl would have to be my choice if I had to choose.
Why did you want to be a writer?
My head was always full of ideas and stories. I often got in trouble by pretending these imaginary worlds actually existed. Eventually I found that writing my ideas down got me in far less trouble and gave me far more pleasure and satisfaction.
Do you have a special place where you write your books?
I do have a small study these days but all I really need is a pen and some paper and a corner to sit in.
What's the best thing and worst thing about being a writer?
I think the worst thing is that I tend to shut myself away from real life when I'm deeply engrossed in a book and find it hard to go back to reality.
The best thing though is that it's so much fun to do.
If you weren't a writer, what would you like to be?
I would always be a writer whatever else I did. I did dream of being an archaeologist as a child. I would still like to study ancient civilizations as they are so fascinating.
What advice would you give to aspiring writers?
Write as often as you can. Never stop and most important… have fun doing it!
Read some books by Linda McNabb
More information about Linda McNabb
This interview is from 2005.