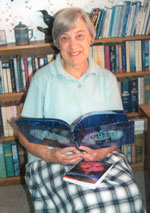 Name: Margaret Beames
Date of birth: 18 October 1935
Place of birth: Oxford, England
Now living in: Feilding
What is your favourite food?
Crusty home-made bread with cheese. Also chocolate and NZ oranges.
Do you have a nickname and if so what is it?
No
What was your most embarrassing moment?
Being auctioned as a "slave" at a student Rag Week and only fetching 1/6 (about 50c).
How do you relax?
By reading, anything not too 'heavy'.
Who inspired you when you were little?
No one person in particular.
What were you like at school?
Quiet. I hated putting my hand up to answer questions. I made some good friends I still keep in touch with.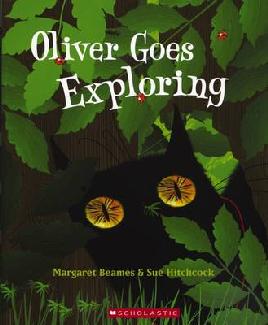 What was your favourite/most hated subject at school?
Favourite was English (and History).
Most hated Needlework (and Biology).
What was the book you most loved as a child?
So many it is hard to choose but probably The Wind in the Willows by Kenneth Graham, and The Jungle Book by Rudyard Kipling.
Who is your favourite author/children's author?
Author: Anne Tyler
Children's author: Margaret Mahy, opens a new window
Why did you want to be a writer?
I have always loved books and it just seemed natural to start writing my own. I did not plan to be a writer. It just happened.
Do you have a special place where you write your books?
I have a study with a desk and a computer where I can work undisturbed. (Lots of books around me, also a radio and cassette player.)
What's the best thing and worst thing about being a writer?
The best thing is getting so wrapped up in your story you forget everything else. The worst is 'writer's block' when you just can't write a word!
If you weren't a writer, what would you like to be?
A teacher.
What advice would you give to aspiring writers?
Write something every day. Read as much as possible. Look, listen, observe.
Read a short story by Margaret Beames
Read some books by Margaret Beames
More information about Margaret Beames
This interview is from 2002.