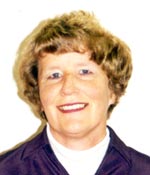 Name: Mary Carmine
Date of birth: 14 August 1945
Place of birth: Waihi
Now living in: Waihi
What is your favourite food?
Chilli con carne
Do you have a nickname and if so what is it?
No or not that I know of.
What was your most embarrassing moment?
I don't get embarrassed. My children do it for me.
How do you relax?
Bush walks or reading.
Who inspired you when you were little?
My mother and one or two very encouraging teachers.
What were you like at school?
I was very good and a bit of a nerd.
What was your favourite/most hated subject at school?
Favourite: Science
Nothing I hated except being asked to recite tables at speed. Although I knew my tables well the brain and tongue did not function well together.
What was the book you most loved as a child?
Winnie the Pooh by A.A. Milne.
Which person from the past would you most like to meet?
Who is your favourite author/children's author?
Adult: Jane Austen
Children: A.A. Milne
Why did you want to be a writer?
I enjoy humour and fantasy. Reading is great, writing even better.
Do you have a special place where you write your books?
Just the computer. But I think out ideas whenever I get solitude, peace and quiet.
What's the best thing and worst thing about being a writer?
The best thing is seeing the enjoyment on children's faces when you read them your stories, the worst is dismissive rejection letters from publishers.
If you weren't a writer, what would you like to be?
I do lots of other things besides, which proves that despite what else you do you can always be a writer.
What advice would you give to aspiring writers?
Read lots, write lots. Practice makes perfect. Believe in yourself and never be discouraged by other people.
Read a short story online by Mary Carmine - Sea Voices
Read some books by Mary Carmine
This interview is from 2002.