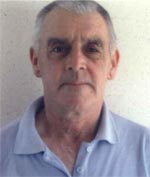 Name: Mike Carter
Date of birth: 12 September 1936
Place of birth: Greenwich, London, United Kingdom
Now living in: Onewhero, near Tuakau, South Auckland
Do you have a nickname and if so what is it?
Only known as Mike.
What was your most embarrassing moment?
I was taking some kids sailing. I stopped the yacht, jumped overboard to fasten a surf-board to a dinghy and the yacht sailed off leaving me alone on the surfboard. Fortunately the kids kept their heads.
How do you relax?
Take the dog for a walk.
Who inspired you when you were little?
My Aunt influenced me to become a teacher. Also my parents were extremely supportive.
What were you like at school?
A goody goody worked hard, played sports.
What was your favourite/most hated subject at school?
My favourite was History. I disliked Science (hated too strong a term).
What was the book you most loved as a child?
Billy Bunter of Greyfriars School by Frank Richards.
Which person from the past would you most like to meet?
My great great great great great grandmother/father. Would be wonderful to make contact with some of my genes from the past.
Who is your favourite author/children's author?
Children's: A.A. Milne
Adult: Bernard Cornwell, Lee Child, Janet Evanovich. But I guess I'll always return to Charles Dickens.
Why did you want to be a writer?
To prove to myself that I could express my ideas on paper so others could enjoy them. The thought of writing a best-seller and becoming mega-rich is always lurking in the background!
Do you have a special place where you write your books?
Yes by the fridge in the kitchen. On a computer, overlooking the garden.
What's the best thing and worst thing about being a writer?
Best thing is receiving a letter saying someone's accepted your story. Worst thing is suddenly realising the story's lost itself somewhere and you're wasting time on it.
If you weren't a writer, what would you like to be?
I write as a hobby, I've heaps of hobbies: play music, fly a powered parachute, take photographs, dramatics. I only write when I suddenly get an idea.
What advice would you give to aspiring writers?
Rewrite, rewrite, rewrite.
I've only had about one in ten of my stories/books published. That's a heap of effort. But seeing your story in print that's a real buzz.
Don't be disappointed. Be challenged.
Read Mike's short story Piripi's rose
Read some books by Mike Carter
This interview is from 2005.