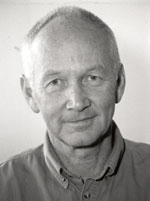 Name: Norman Bilbrough
Date of birth: 13 June 1941
Place of birth: Feilding
Now living in: Wellington
What is your favourite food?
Apples, honey, avocado, Thai Green Curry (with chicken)
Do you have a nickname and if so what is it?
Once, a long time ago, it was 'Bugs' (after the rabbit).
What was your most embarrassing moment?
Too rude to write down.
How do you relax?
Sleeping, walking, going to the movies. And eating.
Who inspired you when you were little?
All Blacks - like Ron Jarden.
What were you like at school?
Dreamy
What was your favourite/most hated subject at school?
Favourite: Art
Most hated: Physics
What was the book you most loved as a child?
Liked all the 'William' books e.g. 'William the Conqueror' by Richmal Crompton.
Which person from the past would you most like to meet?
Can't think at the moment.
Who is your favourite author/children's author?
Children's author: Robert Cormier
Adult author: Larry McMurtry
Why did you want to be a writer?
Because it was my way of rebelling.
Do you have a special place where you write your books?
My bedroom, where I write longhand.
What's the best thing and worst thing about being a writer?
Worst: not much money and hard work.
Best: not having to "go out" to work and using my imagination.
If you weren't a writer, what would you like to be?
A pianist or trumpet player.
What advice would you give to aspiring writers?
Write, write, write. Think of it (writing) as work.
Read a short story by Norman Bilbrough
Read some books by Norman Bilbrough
More information about Norman Bilbrough
This interview is from 2002.