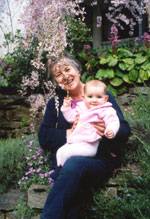 Name: Pauline Cartwright
Date of birth: 14 July 1944
Place of birth: Lawrence, Otago
Now living in: Alexandra, Central Otago
What is your favourite food?
Fruit
What was your most embarrassing moment?
One - if not the most - was when a large woman with whom I was boarding gave one of her great guffaws as her large family and I sat round the table. Her false teeth shot out and skidded the length of the long formica table. Long after everyone else had stopped, I couldn't stop laughing.
How do you relax?
Reading, walking, time with friends
Who inspired you when you were little?
Beautiful things, warm people, books, oral stories from respected people (my Dad through to the famous), the natural world.
What were you like at school?
I was often seated at the front - for talking too much. I didn't, and still don't, like maths. I disliked the sport we did, loved poetry, art, nature study and later English and typing because I wanted to be a writer.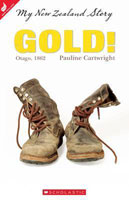 What was your favourite/most hated subject at school?
Favourite: Nature study (equivalent to only a portion of today's science).
Most hated: Mathematics.
What was the book you most loved as a child?
The Magic Trumpet, by Elizabeth and Mary Durack - at nine years.
The Anne books and the Emily books, by L.M. Montgomery - at ten, eleven years
And a progression of others from Paul Gallico to Noel Streatfeild.
Who is your favourite author/children's author?
As in childhood, I keep making new discoveries. So no favourite but many I love.
Why did you want to be a writer?
I don't know. Something to do with a genetic something that dictated I should love words, and influences in the family like Dad, a storyteller, and Mum, a reader.
Do you have a special place where you write your books?
Yes. I have a room I call my study, only occasionally used as a spare bedroom, in which I have all the tools of my trade and the knowledge that half-finished work will remain undisturbed until I return to it.
What's the best thing and worst thing about being a writer?
Best: Being finished! i.e each bit of work, large or small. It's a great feeling of having accomplished something difficult.
Worst: Having to learn to project a 'public side'.
If you weren't a writer, what would you like to be?
Someone that travelled a lot. Perhaps a photographer of people and places.
What advice would you give to aspiring writers?
Read, read, read. Write, write, write. Consider criticism and learn by it.
Read a short story by Pauline Cartwright
Read some books by Pauline Cartwright
More information about Pauline Cartwright
This interview is from 2002.