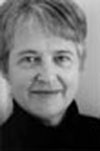 Name: Rachel McAlpine
Date of birth: 24 February 1940
Place of birth: Fairlie
Now living in: Wellington
What is your favourite food?
Veges, all veges, especially raw or stir-fried.
What was your most embarrassing moment?
When I was a (very) young teacher at Christchurch Girls' High School, I tripped and fell down the stairs in front of dozens of pupils. I was touched when I stood up and saw that nobody was laughing - they all looked genuinely concerned.
How do you relax?
In my Japanese bath, up to my neck with a good book.
Who inspired you when you were little?
My mother and father. One bold, beautiful and original; the other a loving man of complete integrity.
What were you like at school?
In primary school, "a happy bubbly normal little girl". At high school, similar but privately and constantly worried because I always forgot some of my homework.
What was your favourite/most hated subject at school?
I loved all subjects especially English but was extremely puzzled by Maths and Science.
What was the book you most loved as a child?
The Secret Garden by Frances Hodgson Burnett.
Which person from the past would you most like to meet?
God
Who is your favourite author/children's author?
Margaret Mahy, opens a new window
Why did you want to be a writer?
I couldn't help it.
Do you have a special place where you write your books?
At my computer and in bed - I need both.
What's the best thing and worst thing about being a writer?
Best: A high! Joy in the doing. It's the best fun.
Worst: All worst moments gradually evolve into important challenges, and so, more fun.
If you weren't a writer, what would you like to be?
A singer or an artist.
What advice would you give to aspiring writers?
Just do it. When in doubt, write more, rewrite, write again, and the fun returns.
Read some books by Rachel McAlpine
More information about Rachel McAlpine
This interview is from 2002.