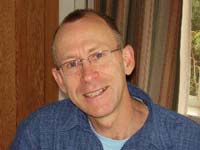 Name: Raymond Huber
Date of birth: 30 January 1958
Place of birth: Christchurch
Now living in: Dunedin
What is your favourite food?
Golden honey from my bees.
Do you have a nickname and if so what is it?
No, but I've been likened to comics characters — Tintin (it's the hair) and Calvin's dad (the bike helmet and glasses - from Calvin and Hobbes - ed.)
What was your most embarrassing moment?
When a teacher dragged me off stage in our high school talent show — he said I was 'showing off'.
How do you relax?
Sculpting limestone while listening to scratchy 20 Solid Gold Hits LPs from the 1970s.
Who inspired you when you were little?
Doctor Who — I dreamed about having adventures like his. Also my teachers at Thorrington School were wonderful.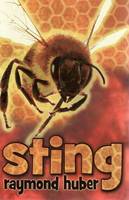 What were you like at school?
A bit shy, a bit worried, but I had a sense of humour that made it a bit of fun.
What was your favourite/most hated subject at school?
I loved science and drama, and found PE painful (it was always cold).
What was the book you most loved as a child?
Calico the Wonder Horse (The Saga of Stewy Stinker) by Virginia Lee Burton — you'll laugh, you'll gasp, you'll cry!
Which person from the past would you most like to meet?
Myself as a school boy. I'd tell me not to worry so much.
Who is your favourite author/childrens author?
Children's author? Tove Jansson (Moomin books); and I love adult author Penelope Todd (so I married her).
Why did you want to be a writer?
Because I have so many ideas in my brain which need to find a home. And I love reading.
Do you have a special place where you write your books?
No, I work in the living room, sandwiched between the TV, book shelf, and cat on a beanbag.
What's the best thing and worst thing about being a writer?
Worst is not enough time; best is when I first see a copy of my book arriving in the letterbox.
If you weren't a writer, what would you like to be?
A film maker.
What advice would you give to aspiring writers?
Read great books. Write down your dreams (both sorts). Be persistent one day you will be published.
Read some books by Raymond Huber
More information about Raymond Huber
Read posts featuring Raymond Huber from the Christchurch Kids Blog.
This interview is from 2010.