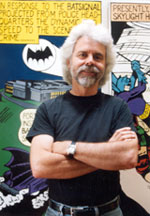 Name: Richard Wolfe
Date of birth: 10 July 1948
Place of birth: New Plymouth
Now living in: Freemans Bay, Auckland
What is your favourite food?
Italian
What was your most embarrassing moment?
I must have conveniently forgotten!
How do you relax?
Reading, walking and just sitting thinking.
Who inspired you when you were little?
I was a voracious reader as a child - Enid Blyton, Dr Seuss etc - but was not aware that they would later help inspire me to take up writing for children.
Much smaller and clean-shaven.
What was your favourite/most hated subject at school?
I actually liked arithmetic/mathematics! But probably would have preferred art if I'd had the opportunity. Contrary to my present interests, I didn't enjoy science much at school.
What was the book you most loved as a child?
Thidwick the big-hearted moose by Dr Seuss, was my first ever book (I've still got it!) and it obviously created quite an impression.
Which person from the past would you most like to meet?
It would be interesting to meet Victorian children's book illustrator Arthur Rackham and watch him at work.
Who is your favourite author/children's author?
Maurice Sendak, followed by Dr Seuss.
Why did you want to be a writer?
I always enjoyed writing, even as a child, and this interest just naturally evolved.
Do you have a special place where you write your books?
I have a room of my own where I do most of my writing.
What's the best thing and worst thing about being a writer?
The best thing about being a writer is being able to do what you want to do. Perhaps the only bad thing about being a writer is not selling as many books as you'd like to!
If you weren't a writer, what would you like to be?
I would still like to work with words, so perhaps I would try song writing, inspired by the example of Bob Dylan.
What advice would you give to aspiring writers?
Read and write lots, and never give up!
Read some books by Richard Wolfe
More information about Richard Wolfe
This interview is from 2002.