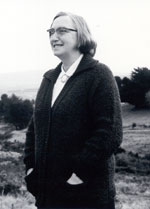 Name: Ruth Dallas
Date of birth: 29 September 1919
Date of death: 18 March 2008
Place of death: Invercargill
What is your favourite food?
Pasta. Also fruit.
What was your most embarrassing moment?
Turning up at school wearing glasses for the first time.
How do you relax?
Reading. Listening to music. Walking. Gardening. Going to the beach.
Who inspired you when you were little?
My grandmother, who was a nurse. I wanted to be like her.
What were you like at school?
Quite ordinary. There were 60 pupils in my class, both girls and boys.
What was your favourite/most hated subject at school?
My favourite subject was English. We had a lot of English including comprehension, synopsis etc. We had six new words to learn to spell for homework. We had to look for them in the dictionary and learn their meaning. I found that interesting. But I didn't like arithmetic.
What was the book you most loved as a child?
I loved all the books I read, beginning with Peter Pan by J.M. Barrie. We did not have a school library, but I had a membership card at the Public Library, which was not free at that time.
Which person from the past would you most like to meet?
I should like to be able to listen to any great teacher from the past - Christ, the Buddha, some ancient Greeks. How do I know about them? Through the written word.
Who is your favourite children's author?
Hans Anderson. The brothers Grimm for their collection of fairy tales.
Why did you want to be a writer?
I wanted to write about New Zealand children, having New Zealand adventures. The books for children at that time were written overseas.
Do you have a special place where you write your books?
Any quiet place where I do not expect to be interrupted.
What's the best thing and worst thing about being a writer?
The best thing is being able to communicate your thoughts. The worst thing is that most writers can not earn enough money to live on. We hear about amazingly successful writers, but they are very few.
If you weren't a writer, what would you like to be?
Perhaps a photographer or an artist.
What advice would you give to aspiring writers?
Get as much education as possible. Read and read. Read widely.
Read a short story online by Ruth Dallas
Read some books by Ruth Dallas
More information about Ruth Dallas
This interview is from 2002.