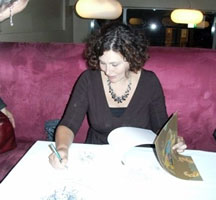 Name: Sally McLennan
Date of birth: 18th July 1972
Place of birth: Morrinsville
Now living in: A cottage in Christchurch
What is your favourite food?
Good dark chocolate!!!
Do you have a nickname and if so what is it?
I have lots of nicknames! My little sister calls me Big Red because sometimes my hair looks reddish. She and Joel, my illustrator, both call me Big Ears and I call them Little Ears. They started this independently of one another! My mum calls me Cuddles.
What was your most embarrassing moment?
Mixing up my words or misspelling when signing my book for people. It's something that happens if lots of people are trying to talk to me at the same time while I am signing! I always feel bad about it.
How do you relax?
I read, write (yes, I find writing really relaxing!), eat out too much, play with my pets and hang out with friends. I love to travel and enjoy going to the beach.
Who inspired you when you were little?
Margaret Mahy, opens a new window and my Dad.
What were you like at school?
Geeky! I was always reading voraciously and day dreaming endlessly.
What was your favourite/most hated subject at school?
My favourite subjects were English and Art. Maths was hands down my least favourite area of study.
What was the book you most loved as a child?
The Haunting by Margaret Mahy.
Which person from the past would you most like to meet?
Dickens! I love his writing. I'm quite fascinated that he could be so brutal with his characters at times. When he was writing "Little Nell" he apparently said something to the effect of "ah well, at last, time to kill her off." His effortless capturing of the time he lived in was beautiful too. A close second would be Edith Howe an early writer of New Zealand fairy tales. I'd be fascinated to hear about life as a Victorian New Zealand woman writer and life as a pioneering woman altogether.
Who is your favourite author/children's author?
Ooo tough question! It's like being asked to choose my favourite limb. I've mentioned a main contender – Margaret Mahy, opens a new window – already. In children's writing I also like Paul Stewart/Chris Riddel, Roald Dahl, C.S Lewis, and Kenneth Grahame, opens a new window whose Piper at the Gates of Dawn sequence from Wind in the Willows, opens a new window always brings me to tears because it is so beautiful. Keri Hulme, Neil Gaiman, Isobelle Carmody and Charles de Lint are other favourite reads. If I have to choose though Robin Hobb, opens a new window is amazing. I love the Fool.
Why did you want to be a writer?
It's a strange sort of inexplicable illness. Writing is my greatest joy and my deepest driving need. I really just can't help it. I count my blessings I'm not totally pants as a consequence.
Do you have a special place where you write and illustrate your books?
In my office at home. It looks out into my garden and usually all my pets join me there. I have a much loved feather sculpture by Merv Sarsen, a Christchurch artist, on the wall beside a long wooden desk. Otherwise there is a general mish mash of old and new clutter. A lot of the furniture in my office was handmade by my father.
What's the best thing and worst thing about being a writer or illustrator?
Having people read and enjoy your book!!!
If you weren't a writer, what would you like to be?
I enjoyed being a newspaper editor back in the day. But, after writing, the next best thing would be working in archaeology or as some other kind of imagineer.
What advice would you give to aspiring writers or illustrators?
To write or paint/sculpt/draw. The rest is 90% perseverance. I think a certain stubbornness is really important to getting your work finished and then actually turned into a book. So I would tell them to stick with it!!!
Read some books by Sally McLennan
Sally McLennan's website
This interview is from 2010.