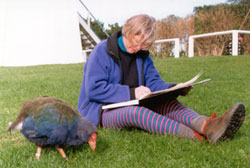 Name: Sandra Morris
Date of birth: 31 October 1952
Place of birth: Auckland
Now living in: Auckland
What is your favourite food?
Fresh fish
Do you have a nickname and if so what is it?
San. (Mij when I was little).
What was your most embarrassing moment?
Can't recall.
How do you relax?
Walking in the bush or sketching outdoors.
Who inspired you when you were little?
My brother (older).
What were you like at school?
Shy but worked hard.
What was your favourite/most hated subject at school?
Favourite: Art and English
Most hated: Maths and History
What was the book you most loved as a child?
The wind in the willows by Kenneth Grahame.
Which person from the past would you most like to meet?
Leonardo da Vinci.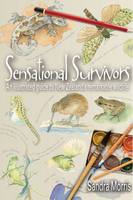 Who is your favourite author/children's author?
Don't have a favourite, I enjoy so many.
Why did you want to be a writer?
Because I wanted to write the stories to accompany my illustrations – I needed stories to match what I wanted to draw.
Do you have a special place where you write your books?
Often at my desk in my bedroom.
What's the best thing and worst thing about being a writer?
Best thing: seeing your new book just published.
Worst thing: deadlines.
If you weren't a writer, what would you like to be?
An anthropologist.
What advice would you give to aspiring writers?
Keep a notebook to jot ideas in. Develop a keen interest in what's going on in the world around you.
Read some books by Sandra Morris
Read posts featuring Sandra Morris from the Christchurch Kids Blog.
This interview is from 2002.