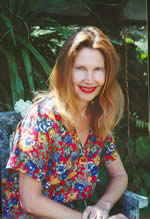 Name: Sue Devereux
Date of birth: 19 August 1946
Place of birth: Bristol, England
Now living in: Howick, Auckland
What is your favourite food?
Roast chicken, roast potatoes, just about anything roast. Cherries, ice-cream, chocolate, anything with custard, the list goes on.
Do you have a nickname and if so what is it?
Soodles.
What was your most embarrassing moment?
When I was nine and all dressed up in my new tutu dancing a solo at the end of year ballet recital, I whirled and twirled and pirouetted my way clean off the front of the stage and plunged down into the audience.
How do you relax?
Dancing (in spite of the above) and singing and swimming and laughing like a hyena with all my mates.
Who inspired you when you were little?
My mum, my dad and my big sister.
What were you like at school?
I was like two different people. I could be a goody 2-shoes, teacher-pleaser swotty girl sometimes but at other times I was a right wicked little rebel mixing it up with the fun crowd.
What was your favourite/most hated subject at school?
Latin was my favourite, I know! I just loved the precision vocabulary and the perfect structure of those sentences. Absolutely loathed embroidery though. I kept stabbing my own finger and the teacher had me unpicking kilometres of bloodstained needlework every lesson.
What was the book you most loved as a child?
Milly Molly Mandy by Joyce Lankester Brisley; Little Grey Rabbit by Alison Uttley; The Wishing Chair by Enid Blyton; Little Women by Louise May Alcott; I Capture the Castle by Dodie Smith; Swallows and Amazons by Arthur Ransome; A Tale of Two Cities by Charles Dickens. The list goes on and on. I read everything because I was just fascinated that I could be transported into a completely different world while at the same time sitting quietly in our house.
Which person from the past would you most like to meet?
William Shakespeare and Jane Austen
Who is your favourite author/children's author?
As with my favourite books I have many favourite authors. Probably Jane Austen and Margaret Mahy, opens a new window if I'm pushed, though. Can I add Dodie Smith?
Why did you want to be a writer?
There was never an exact moment when I thought, "I'd like to be a writer". In fact I didn't have much choice. I was one of those people who just found themselves reading and writing like you find yourself breathing.
Do you have a special place where you write your books?
The kitchen table.
What's the best thing and worst thing about being a writer?
The best thing is the moment you finally finish telling the story. Woohoo! The worst is the struggle getting it told. Boohoo.
If you weren't a writer, what would you like to be?
A mother of young children helping them explore our world.
What advice would you give to aspiring writers?
Read something and write something every single day, even if you don't much feel like it. (Especially if you don't much feel like it)!
Read some books by Sue Devereux
Read Sue's story online
This interview is from 2002.