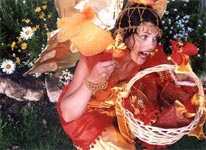 Name: Tanya Batt
Date of birth: 27 November 1970
Place of birth: Auckland
Now living in: Waiheke Island
What is your favourite food?
I love organic food. Favourites include brown rice, fish and vegetables, anything macrobiotic, and my neighbour Derek's bananas.
Do you have a nickname and if so what is it?
Batty
What was your most embarrassing moment?
I regularly do embarrassing things. It's hard to pick one.
Meditation, swimming, fishing, sitting in my tree house doing nothing.
Who inspired you when you were little?
I was quite impressed by Basil Brush and Batman. I loved reading and would have liked to have been a Jedi knight. My great grandfather Jack did some pretty impressive magic tricks.
What were you like at school?
I went to 9 different schools. I liked going to school most days. I got in trouble for talking too much.
What was your favourite/most hated subject at school?
I was very lucky because I had some great teachers who loved their work and so were inspired and inspiring themselves. I didn't like Physical Education for a while because we had to wear a very horrible uniform. I had some great history teachers and I loved creative writing and art and singing on a Friday afternoon.
What was the book you most loved as a child?
The Giant Devil Dingo by Dick Roughsey an Australian aboriginal legend from the Cape York Peninsula about an old woman who was a cannibal who liked to use her huge dog to hunt boys!
Which person from the past would you most like to meet?
Umm tricky Buddha, Einstein, my great grandmother Flora Bell (I have some questions I'd like to ask her).
Who is your favourite author/children's author?
Too many good ones to choose only one. One of my most favourite books of late is Stargirl by Jerry Spinelli.
Why did you want to be a writer?
I'm not sure I 'wanted' to be a writer. For a while I wanted to be a racing car driver or, as I said before, a Jedi knight. I loved writing, so I guess that's why: love.
Do you have a special place where you write your books?
Yep in my head and on the backs of bits and pieces of paper, my computer and in my special book which somehow is never around when I need it.
What's the best thing and worst thing about being a writer?
The best and worst things are the same. The best thing is creating something - which on some days proves to be the worst thing as well.
If you weren't a writer, what would you like to be?
I'm lucky I have a few different things I do performing, teaching, travelling. If I wasn't writing, I'd just like to be happy doing something else.
What advice would you give to aspiring writers?
Write about something you love. Don't worry too much about spelling mistakes. Make words up; English is full of made up and borrowed words. A few more will fatten the dictionary.
Read a short story by Tanya Batt
Read some books by Tanya Batt
More information about Tanya Batt
Read posts featuring Tanya Batt from the Christchurch Kids Blog.
This interview is from 2008.