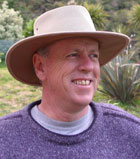 Name: Ted Dawe
Date of birth: 6 November 1950
Place of birth: Mangakino
Now living in: Balmoral, Auckland
What is your favourite food?
Thai
Do you have a nickname and if so what is it?
Ted (my real name is Edwin).
What was your most embarrassing moment?
Farting in a lift.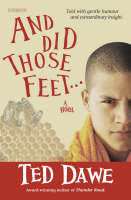 How do you relax?
Surf any activity at the beach.
Who inspired you when you were little?
My grandmother Rewa D'Ath she was a giant with a heart to match.
What were you like at school?
I was an under-achieving smart arse.
What was your favourite/most hated subject at school?
Science was my favourite all the others were a nightmare or a waste of time.
What was the book you most loved as a child?
No book matched the stories my grandmother told me. The first novel to have an impact was The Grapes of Wrath by John Steinbeck.
Which person from the past would you most like to meet?
King Arthur.
Who is your favourite author/children's author?
Why did you want to be a writer?
I have this desire to reconstruct my experiences so that they become stories.
Do you have a special place where you write your books?
The special place is a mental state where the words and images come faster than I can write them down.
What's the best thing and worst thing about being a writer?
The best thing is re-reading something you wrote and saying, "Did I write that? It's brilliant!"
The worst "Did I write that? It's crap!"
If you weren't a writer, what would you like to be?
I am many things besides being a writer. I am a teacher, a builder, a dad, writing just fills in the gaps.
What advice would you give to aspiring writers?
Structure is the most important thing. Style can always be polished. Impact is something you should strive for early on. Insight should come at the end. Every long book begins with one sentence. I guess three more things. Write. Write. Write.
Read a short story by Ted Dawe
Read some books by Ted Dawe
More information about Ted Dawe
Ted Dawe profile Read NZ
Read posts featuring Ted Dawe from the Christchurch Kids Blog.
This interview is from 2010.