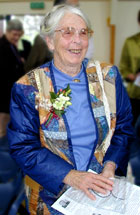 Name: Wanda Cowley
Date of birth: 7 September 1924
Place of birth: Auckland
Now living in: Waiheke Island
Who inspired you when you were little?
My mother
What is your favourite food?
I like all sorts of fruit especially picked from the tree and all sorts of vegetables fresh from the garden. Haggis is a special treat.
What was your most embarrassing moment?
When I first heard this strange voice on tape and realised I was listening to myself.
How do you relax?
Listening to music; reading.
What were you like at school?
Not very confident although in secondary school I used to knit socks for soldiers under the desk when I thought the teacher wasn't looking.
What was your favourite/most hated subject at school?
Favourite: writing stories and poems
Didn't feel strongly enough to hate anything although I struggled with algebra.
What was the book you most loved as a child?
"Seized by Brigands". I read it until it fell to pieces. I think we lost the pieces when we moved house.
Which person from the past would you most like to meet?
The composer Mozart because I think he would be a fun person as well as a great musician.
Who is your favourite author/children's author?
I have so many authors I love to read it's hard to know where to start. I can't really choose one above another.
Why did you want to be a writer?
It just seemed to happen because I love story and language and the music of words.
Do you have a special place where you write your books?
Yes, I'm lucky to have a special room where I keep all my reference books, files and folders.
What's the best thing and worst thing about being a writer?
The best thing is the actual writing process; fashioning the story or poem.
The worst thing is an empty letterbox when I'm waiting to see if an editor likes my work.
If you weren't a writer, what would you like to be?
I can't imagine not being a writer but I would like to play an instrument, maybe flute or autoharp.
What advice would you give to aspiring writers?
Read Read Read. Write Write Write.
Read a short story by Wanda Cowley
Read some books written by Wanda Cowley
This interview is from 2002.