Ōrauwhata means "the place of the multitude of eels". This name is a reflection of the area before it was planted and developed by the Bishop family in the 19th century, when it held whata (eels) in water basins formed during flooding by frequent overflow from the Waimairi River.
Listen to the Māori name [147KB MP3]
Former Bishopdale Library: Te Kete Wānanga o Papa Kōhatu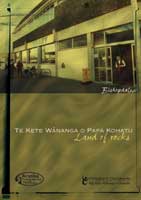 The former library building in Bishopdale was next to the site of the current facility Ōrauwhata: Bishopdale Library and Community Centre which was built in 2017 and was given the Māori name Te Kete Wānanga o Papa Kōhatu.
Papa Kōhatu means 'land of rocks' which is a name that was used by Māori to describe a small area now known as the suburb of Bishopdale. This district was subjected to continual overflow from regular flooding of the old Waimairi River. The water would recede leaving large rocks and shingle across the Canterbury Plains before the stop bank was built. Thus, the name is a descriptive one that reminds people of the power of natural elements.
The Bishopdale history is very much intertwined with that of Papanui, as this was the original Māori name for both of these general districts. The suburbs name derives itself from the large extended Bishop family who were early settlers and orchardists in the area during the 1850s - hence the current name. For some years some family members lived on Bishops Road, now a continuation of Greers Road, between Harewood and Sawyers Arms Road.
Papanui Bush, which extended out towards Bishopdale generated a thriving business for the timber industry in the early years of European settlement. Sadly, the milling of this area in the 1850s rapidly demolished the entire 30 hectares of bush that was left standing and turned into roof shingles, weatherboards and framing for many private homes and public buildings throughout Christchurch.
In 1994 the library received a new refurbishment at which time it opened its doors with a new Māori name, 'Te Whare Pukapuka o Papakōhatu'. From 2003 it was known as Te Kete Wānanga o Papa Kōhatu.
Listen to the Māori name of the former Bishopdale Library [68KB MP3]
Related pages