At the end of the two day wānanga (Monday was excluded), the weavers dispersed with their panels to continue working on them at their homes or schools. The first panel to be completed was returned by the King whānau, the day after the long weekend.
The progress of other panels was monitored by Mae, Helen or Patricia, who replenished material supplies and ensured that the work continued or was moved on to the next group of weavers.
Seven weeks later, all the frames were called in so that weaving demonstrations could be part of ongoing displays during Māori Language Week, July 2001, in both the Central Library and the foyer of the Māori Department at the University of Canterbury.
From this point on, a series of small weaving wānanga kept on happening all around the place – at the City Council Offices with Christine Heremaia's team, at the Rutherfords' home, in schools – Hagley, Avonside and also at Girls' High School, in private homes, in groups, at Helen's place, and as shown, in Mae's garage. In many cases, there was almost a party atmosphere amidst the activity.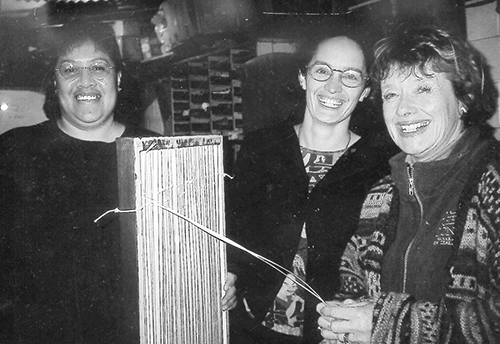 Figure 20: Wānanga in Mae's garage
This page reproduces information from page 22 of the booklet Pūawaitanga o te Ringa - Fruits of our busy hands