The workshop was pure beauty …
Figure 14: Concentration
The workshop was pure beauty. Everyone there came ready and excited to learn about weaving. The teachers and co-ordinators were so kind and patient and always willing to help out wherever they were needed and they were so pleased about all the newcomers. Rebecca and I took our panel back to Lincoln High School where we hope to complete it, and at the same time pass on the knowledge from the workshop to others who wish to learn.
A. D. M.
The place began to buzz and it was difficult to persuade people to break for lunch. Lunches of cold chicken pieces, finger foods and fruit were provided by the Library, upstairs in the staff room on both days of the wānanga.
Figure 16: Hard at work
I not only met a diversity of people and learnt new skills, but this lovely tukutuku weaving also enabled me to create a bond with whomever I was partnered with on a tukutuku panel. We were also well catered for on the food front with both morning and afternoon tea, and lunch provided. Overall it was an enriching experience that I was fortunate enough to partake in. 'Thankyous' go out to everyone who made this workshop such a great success!
N.S.
I was amazed by the skillfulness of some in the art of tukutuku and the patience of the teachers. I felt quite emotionally involved in the panel I was helping with; I will always look at that panel and know many people put it there — teamwork. There was a sense of bonding between everyone. The day was very well organised.
F.W.
Figure 17: Enjoying the work
I responded to Haneta's call for people interested in attending a tukutuku workshop over Queen's Birthday weekend with great enthusiasm. It was easy to see the huge amount of work that had already gone into preparing the frames to the stage where we could start weaving. The atmosphere in which we were taught was truly nourishing. All our teachers were so willing to share their knowledge and by the end of the day, I really had a sense of achievement. By the end of the second day I had worked on four different panels. I learned so much from the skilled weavers I was able to work with, and I was also able to share my little bit of knowledge with work colleagues. All in all a wonderful two days.
C.M.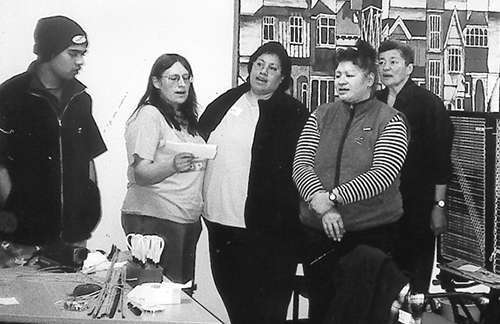 Figure 18: Achievement!
It was a wonderful weekend with a real feeling of community and support. Although I didn't do much actual weaving it was great to see everyone working together and progress being made. I felt a real sense of belonging and of achievement for the few stitches that I contributed. I'm really excited at the thought of the finished panels hanging in the Library and so many people being able to see what they produced.
C.S.
This page reproduces information from page 18 to 21 of the booklet Pūawaitanga o te Ringa - Fruits of our busy hands