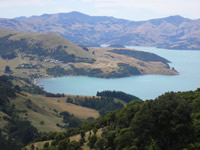 Ōtūtereinga (Ō Tū Te Reinga) is the name of the point at the northern end of Wainui and literally means "the flitting place from which spirits pass to the underworld".
The chief Tāngatahara
Just above the point is the ancient burial place of chief Tāngatahara.
Tāngatahara was the chief who led the defenders of the pā at Ōnawe against the attack of Te Rauparaha in 1832.
He was also one of the leaders of the taua-iti (small war party) that went north to Marlborough in 1833. In 1834, he was part of a taua-nui (large war party) that fought Te Rauparaha.
Tāngatahara's statue
A statue erected at Wairewa Marae honours his exploits during this turbulent period of Ngāi Tahu's history.
Sources