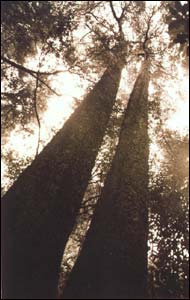 Our last remnant stand of swamp dwelling kahikatea, Pūtaringamotu is the Māori name for the area now known as Dean's Bush.
Pūtaringamotu was the site of one of the many kāika (settlements) that Māori established in the maze of swamps, waterways and lagoons lying between Waihora (Lake Ellesmere) and the Waimakariri River.
Pūtaringamotu means either the place of an echo or the severed ear. The latter is a metaphoric expression referring to 'bush isolated from the rest'. This is in reference to the great fire that swept across Ngā Pākihi Whakatekateka o Waitaha (the Canterbury Plains) during the moa hunter period, leaving behind this bush remnant.
Local Māori also believed that at a certain place in the forest, those trained and skilled in the practice could hear the sound of people approaching on the trails through the surrounding swamp by putting an ear to the ground, hence the name 'place of an echo.'
Kaimahi (workers) from Kaiapoi worked the wetlands that once existed in this area and Pūtaringamotu was often visited by Ngāi Tahu tohunga.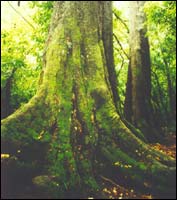 When Europeans began arriving in the early 1800s Pūtaringamotu was occupied by the Ngai Tūāhuriri, a sub-tribe of Ngāi Tahu, who were spread throughout the South Island.
There were two pā sites in the area at this time, one near the site of the present day Bush Inn and the other further towards the Burnside area.
Pūtaringamotu is our city's oldest treasure. The only other similar remnant of bush was located at Papanui on the present day Sawyers Arms Road in the North West of the city. That bush was milled, and completely demolished in the 1850s.
The recent erection of a predator-free fence around Pūtaringamotu is testament to the continuing importance of this bush remnant to the city. This fence protects native birds and insects and provides a safe environment for them to live in.
Sources
Te Maire Tau, Anake Goodall, David Palmer & Rakiihia Tau, Te Whakatau Kaupapa: Ngāi Tahu Resource Management Strategy for the Canterbury Region, Aoraki Press, 1990
Walk Christchurch : 60 short walks that explore your city, edited by Mark Pickering, compiled by Kjesten Nilsson, Karen Theobald and Lesley Symington. Leisure Unit, Christchurch City Council, Christchurch: N.Z., 1998
Related pages
Riccarton Bush : a remnant of the kahikatea swamp forest formerly existing in the neighbourhood of Christchurch, New Zealand

Edited by Chas. Chilton, 1924
a brief article based on the CCC handbook 1998