2009 marked 150 years of Christchurch City Libraries (in its various incarnations) and we've been reading aloud to the children of Christchurch since 1925. In honour of that, the Children's Library Team created a list of the Top 5 Read Alouds for every decade the Library has been open.
Now, looking at the list, you might notice a few inconsistencies. The years 1859 to 1929 are all lumped together, and a few lists have five entries and a few lists have ten, but you can't read aloud to kids for 84 years and not learn that sometimes you need to read more books, sometimes less and always with enthusiasm and a love of the book you are sharing. The list is also limited to books in the Library collection and ones that have a reasonable number of books available to be borrowed.
Read more about Christchurch City Libraries fine history of serving the children of Christchurch at our Library 150 website.
Pre 1930
1931 – 1940
1941 – 1950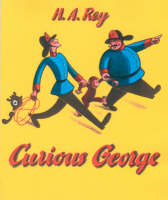 1951 – 1960
1961 – 1970
1971 – 1980
1981 – 1990
1991 – 2000
2001 – 2009