William Moorhouse was the second Superintendent of the Canterbury Provincial Council. He spent two periods in office, from October 1857 to February 1863 and again from May 1866 to May 1868. His most notable achievement was winning the support of the Council and the New Zealand Government for his scheme of building the Lyttelton - Christchurch railway line and the Lyttelton Tunnel through the Port Hills.
Early life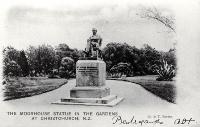 William Sefton Moorhouse was baptised in Yorkshire, England, on 18 December 1825. He studied law and was admitted to the Bar. He came out to New Zealand in 1851 and settled with his two brothers at Moa-Bone Point, Redcliffs.
In March 1855 Moorhouse was elected to the Canterbury Provincial Council, and in 1857 he was elected second Superintendent of the Council.
The Lyttelton Tunnel
Moorhouse had a vision of a railway tunnel through the Port Hills from Lyttelton to Christchurch, and won the support of the Council and the New Zealand government for the scheme. However he resigned as Superintendent in February 1863 before the Lyttelton Tunnel had been completed. On 1 December 1863 the railway from the wharf at Ferrymead into Christchurch was opened and Moorhouse rode on the engine waving to the crowd.
While he was out of office, the new Superintendent, Samuel Bealey, began carrying out Moorhouse's policy of a great southern railway. Moorhouse was elected Superintendent again in May 1866, and made the journey over first 13 miles of the southern railway on 13 October 1866. The Lyttelton tunnel line was opened for passenger transport on 9 December 1867.
Involvement in national politics
Moorhouse was elected as the first member of parliament for Westland in 1865. He resigned from the position of Superintendent of the Canterbury Provincial Council on 7 April, 1868, having resigned as an MP in February. He continued to be involved in national and local politics until his death in Wellington on 15 September 1881.
A bronze statue of Moorhouse was erected in the public gardens, and his name was given to Moorhouse Avenue, one of the Four Avenues of Christchurch.
Four Avenues
In the 1850 plan of Christchurch three Town Reserves were marked. These were strips of land on the three sides of the central city square (Hagley Park was on the fourth side), which were sold for building after the first sections inside the town square had been distributed. The roads along these reserves were widened and planted with trees in the middle.
In 1903 the North Town Belt was renamed Bealey Avenue, after the third Superintendent of Canterbury, Samuel Bealey. The other Town Belts were renamed as well, probably at the same time. The South belt became Moorhouse Avenue, and the East belt became Fitzgerald Avenue after the first Superintendent, James Edward Fitzgerald. The fourth avenue was named after the last Superintendent, William Rolleston, in 1906 when a statue of him was put up in front of the Canterbury Museum.
More information
Sources