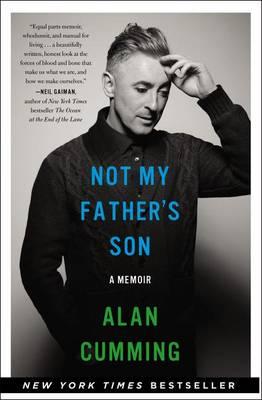 With the ease and playfulness of a youth, acclaimed actor of theatre and screen Alan Cumming comes on a stage and positions himself in a chair. He used to be annoyed by the media description of him as elfin, but now he claims himself a "Scottish elf trapped in the middle aged body". Evoking the child (and his voice), repressed so early in his childhood, was one of the best things he could do!
"I have a voice because of my work."
Alan was a guest of the Auckland Writers Festival last night. In front of a huge curious crowd, he talked about the difficult relationship with his father with admirable genuineness. His new book Not my father's son is his memoir of this traumatic childhood, packed with violence and his own struggles for liberation. (According to Alan, it reads like a thriller).
Meeting the fabulous Alan Cumming at #awf15 ZM pic.twitter.com/XXkbc2paSL

— Ngā Kete Wānanga-o-Ōtautahi (@ChristchurchLib) May 15, 2015
Zac meets Alan.
"I'm not a cheese. I don't have a process."
Alan's memoir is the second in a line of his writing experiments (the first one, Tommy's tale, 2002, talks about the inner conflict of a man's wish to become a father and his overpowering sexual drive).
He became a familiar face through films (Emma, Golden Eye, the Spy Kids trilogy, X2: X/Men United) , TV (High life, The Runaway, Who do you think you are?, The Good Wife and theatre (Hamlet, Cabaret, Bacchae) work. He has won multiple awards (A Tony for his Broadway role as Cabaret's Emcee, Emmy and Golden Globe nomination for the role in TV series The Good Wife,), played Hamlet in three different productions at various times in his life and been appointed an OCB.
As an artist, his role is not to entertain people, but to provoke (slightly provoking, yet amusing is his line of fragrance body care called Cumming).
When his students in New York asked about the process behind his acting technique, he said:"I'm not a cheese. I don't have a process."
"I said no to shame!"
Alan's confrontation with his father, his grandfather's mysterious death (the discovery of which was prompted by filming of a British TV series Who do you think you are?) and his own sexuality (Alan is a strong and vocal advocat of LGBT rights) was a long and rather painful process.
"Shame is crippling and I said NO to shame." Alan says, and then he picks up his book and reads out the most touching and intimate story of how he – as a teenage boy – faced a shame and battled with it. In front of thousand strangers. With such an ease.
"Truth can hurt, but not knowing can hurt more."
A substantial part of Alan's confrontation with his family's truth turned out to be writing. Telling a story was a way of managing it, of beating the denial and evoking the child, who's childhood was taken from him too soon. His advice to writers, artist, actors and every human being? "Remain yourself. Your experience is the most interesting. Be what you are." And keep that child in you curious and playful!
More from the Alan Cumming event
Alan Cumming. #Awf15 #bookface pic.twitter.com/hNNsKehnhH

— Ngā Kete Wānanga-o-Ōtautahi (@ChristchurchLib) May 15, 2015
Question from the floor to Alan Cumming - Can you sign my @Auckland_Libs copy of your book? The cheek pays off! ^DR

— Ngā Kete Wānanga-o-Ōtautahi (@ChristchurchLib) May 15, 2015
#AWF15 @Alancumming on the Scottish independence referendum: "it was very exciting to hear my country roar like that!" @BooksellersNZ

— Elizabeth Heritage (@e_heritage) May 15, 2015
Catch up on our #awf15 coverage for @TheWirelessNZ: @NaliniSingh, @Alancumming, & Freemasons... http://t.co/XUkjTo6RJ7

— Ellen Falconer (@Ellen_F) May 15, 2015
(Sarah) Here is @e_heritage's report on Amy Bloom & Alan Cummings http://t.co/z0l68ZhFhz #awf15 @AklWritersFest

— Booksellers Aotearoa (@BooksellersNZ) May 15, 2015
Auckland Writers Festival coverage