There are some wonderful authors and illustrators for children who are coming to Auckland in August as part of the 2016 IBBY Congress. You can read all about who we are excited to meet in our post about the IBBY Congress here on the blog. We approached some of the speakers and asked them a few questions about books and libraries.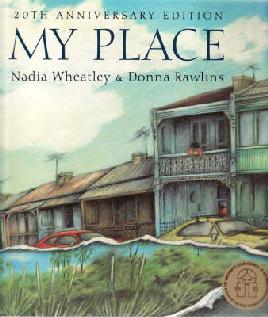 Today's featured speaker is Australian author Nadia Wheatley:
What are you most looking forward to when you visit New Zealand for the 2016 IBBY Congress?
Meeting fellow authors, illustrators, readers and book-lovers from around the world.
What is your favourite memory of libraries?
I don't have early memories of going to libraries and borrowing books because when I was growing up in the 1950s there weren't many municipal libraries in Australia, and my school didn't have a library until towards the end of my secondary years. However, my mother's best friend from her childhood was the librarian in charge of a major library in the centre of Sydney, and sometimes we would pay her a visit when we went into town. Although my mother had been a nurse and she had many nursing colleagues who were still working, this librarian was the first woman I knew who had a professional office job. I always loved going to the library and seeing Auntie O (as I called her) sitting behind a big desk, surrounded by books.
What are 5 of your favourite books?
Impossible to choose only five favourite books, but here are some, in the order I read them:

Pippi Longstocking (Astrid Lindgren): This book provided a model of a happy orphan when my mother died, when I was nine years old.

Middlemarch (George Eliot): This was our set text in English when I was fifteen. I think it was the first really grown-up book I read.

The Making of the English Working Class (E.P. Thompson): I read this in 1968, when I was getting involved in radical politics. It helped me decide to become a historian.

The Member of the Wedding (Carson McCullers): My favourite book about what it means to be a misfit.

The Vivisector (Patrick White): My favourite book about about what it means to be an artist.
What do you love most about the world of children's literature?
The friendship of my fellow book-makers and book-lovers.
What do you believe is the most important thing that adults can do to encourage children to read?
My general advice would be to read aloud to children, even when they are able to read for themselves. I also think of a phrase used by British novelist and critic, Aiden Chambers. He referred to what he called 'the enabling adult': the person (parent, teacher, librarian, friend) who introduces a particular book to a child, and helps her find her way into it. I remember that Aiden also once said to me that every time we read a new book, we need to learn how to read it. I think some wonderful books do need someone to introduce them to their readership.
More