There are some wonderful authors and illustrators for children who are coming to Auckland in August as part of the 2016 IBBY Congress. You can read all about who we are excited to meet in our post about the IBBY Congress here on the blog. We approached some of the speakers and asked them a few questions about books and libraries.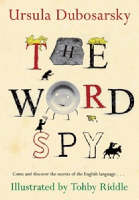 Today's featured speaker is Australian author Ursula Dubosarsky:
What are you most looking forward to when you visit New Zealand for the 2016 IBBY Congress?
Spending time with book lovers, readers, writers, listening to the presentations in all their glittering variety!  – and catching up with old friends especially.
What is your favourite memory of libraries?
The local library always felt to me like another room in my home – as I child I felt it was a place I belonged, without question. Just walking into the library made me feel excited, thinking of all the things inside that I would soon be able to take off the shelf to take home and read.
What are 5 of your favourite books?
An Episode of Sparrows by Rumer Godden (children's novel)

Come by Chance by Madeleine Winch (picture book)

Washington Square by Henry James (adult novel)

Horizon by Patrick Modiano (adult novel)

Quartet in Autumn by Barbara Pym (adult novel)
What do you love most about the world of children's literature?
Too hard a question! I can't extricate the world of children's literature from my personality…
What do you believe is the most important thing that adults can do to encourage children to read?
Well to be perfectly honest I would say TAKE THEM TO THE LIBRARY. That's how a child will become a reader. No child is going to become a reader by being given a book as a present from time to time – they will become a reader by massive exposure to all kinds of books, which is only possible really in a library. Go into the library every week, let the child pick three or four books themselves, then you pick a few too. Then take them home and READ them. Some the child will like, some they won't like. That's the whole idea - by reading and loving or reading and discarding a wide variety of books they will develop their own taste, a sense of judgement, a knowledge of what books can do. I am a total public library FREAK, frankly. (!)
More