The crowd waiting for Murakami was a fragrant one. I smelled Commes des Garcon, something from L'Artisan. There were lots of cool looking young uns. And when we got into our seats, Haruki came on stage in a tshirt saying "Keep calm and read Murakami", pinkish pants, and nifty sneakers. Older than I know him from his author photos.
The crowd gave him a mighty round of applause after a fine intro by John Freeman.
Readers, we were in for a treat. We got to learn so much about Murakamiworld, from his own mouth. The audience was one of the most attentive, attuned, and excited I've ever sat in. We weren't allowed to tweet, take pics, - but I don't think that was why the crowd was so focused. We all wanted to be there - big time - and didn't want to miss a thing.
Haruki told us first about the moment he decided to become a writer. He was 29, watching a baseball game, and it came to him: "I can write":
Something fell from the sky, and I caught it. I can still feel the feeling, I was so happy.
He went to the stationers to get a pen, and voila.
His background was in film, he wanted to write screenplays but didn't have anything to say. When he began to write, he first wrote in Japanese, then translated it into English, then back into Japanese. This combination gave him his distinctive style:
My English vocabulary is so small. What I write is very simple and very clear. That is what I want. I made up my style.
He doesn't do that now, but that initial double translation made that Murikami style.
We journeyed through Murikami's life, he talked about being a teenager in the 1960s, being part of an idealistic generation:
As we grow up the world should be saner, more reasonable - it's not ... I am still holding my idealism in my mind ... it's a kind of warmth.
His literary inspirations are diverse. He has parents who are teachers of Japanese literature, but he bonded with Brautigan, Vonnegut, Dostoyevsky, Balzac, Raymond Chandler.
And he loves cats, and has 11,000 records!:
I love my books. I love my music. I love my cat. ... Cats and music and books are very important to me.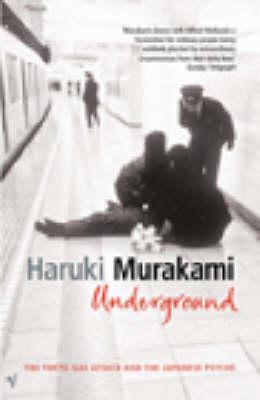 Haruki left Japan when he was "hated" on by the Japanese mainstream literature crowd. He went to Italy and wrote there, then to the States. But he returned home to Japan in 1995 after the twin disasters of the Kobe earthquake and the Tokyo sarin gas attack. From this time came the book Underground. He interviewed 60 survivors:
Everybody as his or her own story. They are my people on the train. I got to know my people better.
This led to a strain of questioning on evil:
I go into the darkness of my mind. Everyone has a basement beneath the ground. Some people have a basement in their basement ... It's easy to go into the darkness, sometimes it isn't easy to come back.
What sort of books does Murikami write? Gotta like his classification system:
I come and go. When I want to write big ones, I write big ones.
And he doesn't always know which one it is going to be. His latest - Colorless Tsukuru Tazaki and his years of pilgrimage started out as a short story, but it got longer. The story made it happen.
It's not an easy job to do being a writer, so Haruki runs to keep fit. A day in his life goes a bit like this:
Get up at 4am. Not using an alarm clock.
Drink coffee.
Start writing.
Sometimes he works while listening to music - low volume, classical background music.
4 to 5 hours writing.
Do translations in the afternoon.
Don't work after sundown.
Watch baseball.
Go to bed at 10pm, no nightlife.
"Just so".
The translating he is working on at the moment (English into Japanese) is a book he discovered during a trip to Oslo - Novel 11 Book 18 by Dag Solstad.
Why are your stories so sad, Haruki?
I am always looking for the bright side of things ... But most of my fictions are not happy endings. I don't know why. He is looking for something, finds it, but it's not what he expected.
And what happens at the end of Colorless Tsukuru Tazaki and his years of pilgrimage with the marriage proposal?
I have no idea. I don't know what is going to happen. That is life.
And with that it was question time. We had questions about being a writer, more about cats, and the surprising revelation that Haruki's favourite foods:
I am a donut addict ... Doughnuts and Tofu.
And finally:
The stories must be unpredictable to myself.
Congratulations to the Auckland Writers Festival crew for getting Haruki Murakami here, and Kia ora Haruki.