On a dark, bitterly cold evening in November 1992 I was both  'killing time' and keeping warm in W H Smith waiting with increasing impatience for my delayed home-bound train to make its appearance at  platform 7.
I glanced at the shelves of books and found myself drawn to the large A embellishing a book cover – a cover that looked as menacing and moody as I felt!  Turning to the back cover I decided that I liked the sound of Kinsey Millhone – primarily because she was my age and sounded feisty (an attribute that still eludes me).
She's 32 years old. Twice divorced, no kids. Sometimes the independence suits her better than it should. Meet Kinsey Millhone, private investigator…
I purchased the book and ran (a practice I haven't attempted for several years now) the length of platform 7 where I was guaranteed, if not a seat, then at least 'a lean against' the side of  a seat in the middle of the carriage. This running remained limited to catching public transport for several years, UNLIKE Kinsey who chose to don training shoes every morning and go jogging. I resonated on every level with her except that one!!
She cut her own hair with nail scissors (brave but foolhardy) and owned the one black dress which she grudgingly climbed into when her investigations necessitated fitting in somewhere more exotic than her office or apartment. Kinsey had life pared down to essentials and I admired that.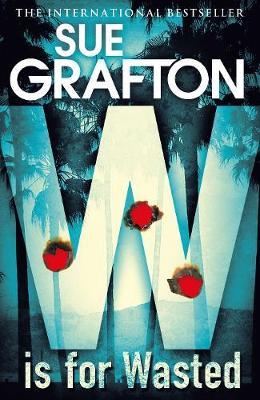 By the time I had been introduced to Sue Grafton's character, she had already had G is for Gumshoe published so I had some catching up to do. Now W is for Wasted is in the libraries and I am eagerly awaiting news of the 'X' title and then only two more to go.
What motivation and stamina Sue Grafton possesses – to continue with a PI who, even now, has only reached the late 1980s with regard to her case-load (and has only aged a few years – unlike her reader!).
The research that must be done to achieve the successful completion of complex storylines; the well-drawn characters  that have featured alongside Kinsey is an amazing feat of dexterity. I have a mental image of notepads galore scribbled with names of past characters and brief histories of each which would have to be feverishly consulted to ensure names, plots, historical time frames don't go awry.
Female PIs abound on the shelves of the libraries. Do you have any personal favourites and if so, what appeals to you about them? I'm going to be in need of an older but still feisty character to relate to shortly.