The resolution to read seven books off The Guardian Best Books of 2013 list is proceeding well with no duds so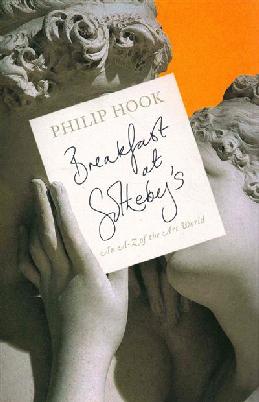 far.
The latest is Breakfast at Sotheby's, which was on William Boyd's list. Perhaps Boyd liked it so much because he features in the book, as the creator of an elaborate hoax that began on April Fool's Day 1998 with the launch of a biography of artist Nat Tate. Except Nat Tate never existed outside William Boyd's imagination. He even painted some works ostensibly by Nat Tate, one of which sold at Sotheby's in 2011 for £6,000.
Boyd thought that Breakfast at Sotheby's is "an entire art education contained in under 350 pages".  It's witty, learned and unusual in that it considers how art and money mix. It's also full of fascinating characters from the history of art. My favourite discovery is Henriette Ronner-Kipp, one of the most popular female artists of the nineteenth century, who specialised in cats doing cute things long before YouTube.
The author is Philip Hook, who is a director and senior paintings expert at Sotheby's. Before that he worked for Christie's, but what is truly impressive is that from from 1978 to 2003 he was on  Antiques Roadshow. There can be no higher recommendation, although he calls his performance on the show pedestrian and says "it was charitable of the BBC to put up with me for so long, 25 years as it turned out".
I do love a list and Breakfast at Sotheby's has some great ones: Middlebrow Artists (artists who are looked down upon because people like them too much), Individual Artists (the most expensive and sought-after modernist artists) and Fictional Artists. Two of my best fictional characters of any occupation are on the latter list – Gully Jimson from The Horse's Mouth and Charles Ryder from Brideshead Revisited.
A good dip-into book, guaranteed to turn up something of interest on any page you pick.