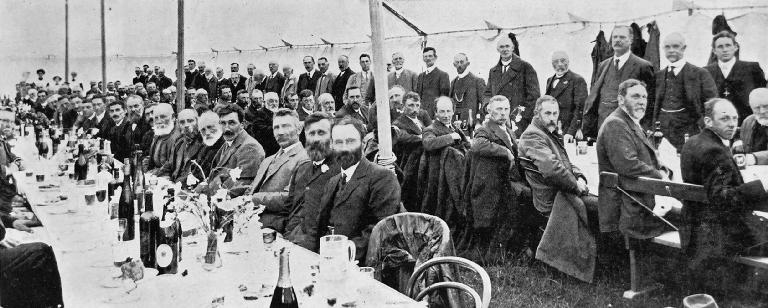 Contemporary Kiwi food combines its largely British heritage with a lively exploration of European, Asian and Pacific influences. Nowhere is this better illustrated than in the Cuisine magazine and website.
Other favourite contemporary sources include:
Historical overview
No Pavlova Please; Images of food in 20th century New Zealand from the Nzhistory.net web site gives an overview, with great illustrations, of some of the key elements of Kiwi food in the 20th century. The site includes a useful list of resources, some of the best of which are:
Aunt Daisy
No mention of food and cookery in New Zealand is complete without the radio personality Aunt Daisy. Maud Basham, "Aunt Daisy", was a favourite radio personality who took to the airwaves in the 1930s and continued in her inimitable style until 1963. Her show included recipes and household hints which were reproduced in cookbooks. Born in London, Aunt Daisy moved to Taranaki when she was 12. Puke Ariki has a useful online biography, as does the Dictionary of New Zealand Biography.
Pavlova
The pavlova is a Kiwi food icon, whose origins are hotly debated between Australia and New Zealand. The idea of a large cake sized meringue filled with fruit and cream appears in a 1926 cookbook – Futter's Home Cookery for New Zealand but it is simply called Meringue Cake. The famous Russian ballerina Anna Pavlova visited New Zealand in 1926.
History and debates aside there are many variations on the Pavlova recipe. Otorahanga's Kiwianatown website offers a Pavlova recipe.
Roast lamb
Roast lamb is considered traditional Kiwi fare. The good folks at Beef+Lamb New Zealand have a basic roast lamb recipe.
A nation of coffee lovers
A newer phenomenon is the pride and high expectations Kiwis have of coffee made in their local cafés. The Daily Grind: the history of Wellington café culture 1920-2000 gives a history of the development of the coffee drinking culture in Wellington, which is mirrored in cities around the country. Christchurch features a lively central city café scene and a number of excellent suburban cafés as well as several coffee roasting firms.
Wild food
Māori and later Captain Cook pioneered the traditional wild food of New Zealand when they released pigs into New Zealand. Later settlers brought deer, goats, trout, salmon, rabbits, hares and game birds for their sport and in the democratic spirit of the new country, anyone could hunt. These days many of these animals have come to be considered as pests but the sport and traditions of wild food still live on.
There is an annual wild food challenge for restaurants, the famous annual West Coast Wildfoods Festival at Hokitika and a ongoing culture of hunting and fishing.
Beer and wine
Captain Cook brewed the first beer in New Zealand – probably using Rimu, Kahikatea, and Matai and calling it spruce beer. These days the major breweries which dominated beer supplies in the C19th and 20th have been joined by a lively bunch of small breweries as described by Real Beer New Zealand.
Wine has also challenged the dominant beer culture since the 1970s and many regions of New Zealand have been economically invigorated by the development of the wine industry and the attendant food culture and tourism – olives, saffron, truffles and much more.
Some good websites for New Zealand wine information and reviews.
You can study winemaking at Lincoln University.
Māori Food
Māori food uses the traditional plants, animals and seafood of Aotearoa. Introduced animals and plants are given their own particular twist with traditional Māori cooking method of the hangi. Kinaki Wild Herbs, the website of chef Charles Royal includes information and recipes for Māori food.
Iconic Kiwi food
Have you heard the story about the tourists who excitedly skipped along to one of Queenstown's famous burger restaurants wanting to sample some local cuisine? The receptionist at their hotel had recommended this place to get a "real Kiwi burger" but, much to the tourists' disappointment, no flightless kiwi birds were used to create these burgers. No kiwi is ever harmed in producing tasty Kiwi burgers.
Despite dashed hopes on the "kiwi burger" front, there still is enough to discover about New Zealand cuisine.
Like Dutch tulips have their origin in Asia, kiwifruit does not actually originate in New Zealand. Also known as Chinese gooseberries, the fruit comes from China but, when New Zealand farmers wanted to market their crop overseas in the 1960s, China was out of favour in the West. To identify the fruit with New Zealand, it was given the name kiwifruit. It is never called a kiwi. That term is reserved for the bird or to describe a person from New Zealand.
L&P (Lemon and Paeroa) is a sweet, uncoloured soft drink made by combining lemon juice with carbonated mineral water from the town of Paeroa.

Jaffas

These orange coated choc balls are traditionally associated with going to the movies. They were first made in Sydney by James Stedman Sweets (aka Sweetacres, also makers of Minties) who had a plant in Auckland making Jaffas and Minties. The confectionery is currently made in Australia by Allen's lollies, a division of Nestle and in New Zealand by Cadbury. The Cadbury Jaffas are also exported to Australia. Each year on Dunedin's steepest street there is the Cadbury Giant Jaffa Roll to help celebrate the Dunedin Cadbury Chocolate Carnival.

Pineapple lumps

According to a bag of Pascall's Pineapple Lumps, the sweets have been available since 1935. They may have been first made by the Regina sweet factory in Oamaru, currently Rainbow Confectionery Ltd.They are unique to New Zealand.

Chocolate fish

Indigenous to New Zealand, the chocolate fish – white or pink marshmallow covered in milk chocolate – is a popular favourite with hot drinks. The fish have even coined a popular expression: "give that man a chocolate fish" to indicate someone deserves thanks.

The pavlova

The pavlova is a Kiwi food icon – a large cake-sized meringue filled with fruit and cream. It is claimed by both Australians and New Zealanders as their own.

Lamingtons

New Zealanders and Australians also argue about the origins of the Lamington – a sponge cake cube coated in a layer of traditionally chocolate icing and desiccated coconut. They are sometimes served as two halves with a layer of cream and/or strawberry jam between. There is also a strawberry variety that is more common in New Zealand, while sightings of a lemon variety have occurred in Australia.
These tasty chocolate and cornflake biscuits, generally topped with chocolate icing and walnut pieces, are a real Kiwi treat although, according to renowned food historian Tony Simpson,the origins of the name is shrouded in a bit of mystery. It is thought the name has nothing to do with the country Afghanistan but simply with the dark colour of the biscuits.
The popular version of the Anzac biscuit's history is that they were made by Australian and New Zealand women for the Australian and New Zealand Army Corps (ANZAC) soldiers of World War I and were reputedly first called "Soldiers' Biscuits" and then "Anzac Biscuits" after the Gallipoli landing.
New Zealand Marmite is significantly different in taste from UK Marmite – the ingredients include sugar – and comes in different packaging. It is manufactured by the Sanitarium Health Food Company, which started importing it from Britain in 1910, gained the exclusive agency to sell in New Zealand in 1919, and in the 1930s started experimenting with blends that led to today's independent product.
Vegemite is the registered brand name for an Australian-made dark brown, salty food paste made from yeast extract. While highly popular in Australia and New Zealand, it has never been successfully marketed elsewhere. It is notorious for the dislike it generates amongst some foreigners.

Kumara

This sweet potato is a staple in the Māori diet and has a long history of cultivation in New Zealand. Early Māori settlers brought the kumara with them from its Pacific Island source more than 1000 years ago. These days, the kumara is used widely in New Zealand cooking.
The New Zealand whitebait is small, sweet and tender with a delicate taste. The most popular way of cooking whitebait in New Zealand is the whitebait fritter, which is essentially an omelette containing whitebait. Foreigners frequently react with revulsion when shown uncooked whitebait, which resembles slimy, translucent worms.

Huhu Grub

The Māori consider the huhu grub delicacy while others may have tried it as a dare during a wild food festival. Said to have the taste and consistency of peanut butter, the grub's high fat content can be a lifesaver for people lost in the bush.
Kiwi food resources
Our online resources
Our Internet Gateway recommends
Browse the resources in our libraries