Imaginary things, once properly imagined, will grow as powerful and lucid as if they were true. —Margaret Mahy, Memory
Growing up David Levithan didn't see himself in literature, or if he did, it was with an undercurrent of unease — queer characters were often sidelined, or the subject of tragedy. Levithan seeks to address that with his engaging, often humorous stories of young love between boys, and he's not alone, if the growing movement of We Need Diverse Books is anything to go by.
The cure that literature can offer, the panacea or the help that we can give, the hope that we can give, is empathy. It is the notion of a common humanity. It is the notion that another human being has so much more in common with you than difference with you.
Empathy becomes even more important when faced with today's prevailing political winds, closing borders and minds as it blows. Fiction at its best provides other perspectives, other contexts for living. Levithan believes that inherent in Young Adult literature is a belief that there is an ability to change things, not just a diagnosis of a problem but providing the compass pointing the way out. Even bleak books such as M. T. Anderson's Feed and Robert Cormier's The Chocolate War try to provoke action in readers where the characters themselves might despair.
The co-writing process — an exercise in trust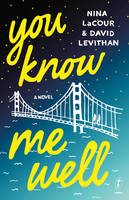 Levithan is very non-monogamous literarily. Co-writing brings out something unexpected in his writing, and he approaches every collaboration with the spirit of experimentation. He always maintains his own chapters, honing his own character while having only limited control over the story. This can provide difficulties for his collaborators; Levithan recently discovered that Nina LaCour usually writes her books out of sequence, which made the chronological narrative of You Know Me Well a little challenging. Levithan publicly declared his intention to continue joining forces with other authors, his next release (The Twelve Days of Dash and Lily, co-written with Rachel Cohn) being released in October.
Making characters real
One of the biggest mistakes beginning writers can make is to think that conflict has to be Conflict with a capital C in order to be worthy of a story. Smaller conflicts can be just as compelling, such as fighting with your best friend. To make characters real, try writing out the thoughts of your characters, as flat characters don't have thoughts. It's important to establish what the main character is thinking even if this doesn't make it into the final text.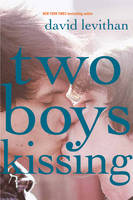 Two Boys Kissing
When asked to be part of an anthology about queer teens, Levithan decided to explore the dimension of history. Two Boys Kissing is therefore narrated by a Greek chorus of the gay men of the AIDS generation, of his uncle's generation, while looking down on the generation below Levithan — the current gay teens with their (relative) freedom. The plot came from hearing about Matty Daley and Bobby Canciello, who'd just broken the Guinness World Record for Longest Continuous Kiss.
Why do you do what you do?
For the readers. The books aren't important; it shouldn't matter what book is better than the other. What authors want is not to win awards or earn money (although I'm sure they wouldn't say no), but for their books to matter to a reader.
Sometimes teens need someone on the outside to help them work out what they're feeling on the inside.
Not just teens, David Levithan, not just teens. Thanks for visiting Christchurch.
Suggested reading
More WORD Christchurch