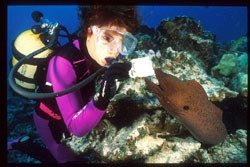 Name: Angie Belcher
Date of birth: 29 September 1956
Place of birth: Wellington
Now living in: Maketu, a tiny little settlement in the Bay of Plenty
What is your favourite food?
Vegetarian lasagne with pesto, sour cream and garlic bread with so much butter that it runs down your hands!
Do you have a nickname and if so what is it?
No, but I always wanted one.
What was your most embarrassing moment?
My most embarrassing moment was also one of my most scariest. I used to skydive. One day when I went to roll out of the plane's door the leg- strap of my parachute harness got caught on a screw. I was left hanging out of the door of the plane by my bottom!! The jump-master and another skydiver seemed to take forever pushing and pulling me until I wobbled free and fell from the plane. I felt like a real ninny!
How do you relax?
By getting away from home and participating in some outdoor adventure. I feel particularly relaxed when I'm diving. When I'm underwater no-one can disturb me.
Who inspired you when you were little?
When I was in Standard 3 and 4 I had a teacher called Mrs Simpson. She was really strict and everyone was scared of her. She used to sit on her desk and read us the most fantastic stories. I remember the day she took one of my poems and wrote it on the board for the class to edit. If I ever find Mrs Simpson I will let her know what an impact she made on my life.
What were you like at school?
I was a goody-good and tried really hard at everything. I really, really, really wanted to be top of the class and be in the A netball team. But it wasn't to be. No matter how hard I only managed to get average grades and make the C team!
What was your favourite/most hated subject at school?
I loved English. I hated, hated, HATED Maths.
What was the book you most loved as a child?
The Coral Island by R. M. Ballantyne.
Which person from the past would you most like to meet?
Jacques Cousteau. He was the famous French Diver who invented S.C.U.B.A (Self Contained Underwater Breathing Apparatus) Diving. He was an environmentalist and made people take note of the importance of looking after our oceans.
Who is your favourite author/children's author?
Ohh, this is a hard question. I've got so many favourites. I love the beautiful language used by Isabel Allende. She's a South American adult writer. I love Paul Jennings' humour, Margaret Mahy's, opens a new window imagination and Fleur Beale's ability to get into the mind of teenagers. I could go on and on!
Why did you want to be a writer?
I didn't mean to become a writer. My husband Andy was a photographer and I got sick of all his fantastic photos lying around the house. I felt sad that no-one else could see them and appreciate the beauty in them so I started writing magazine articles to accompany his images. We also loved to have adventures. One day we decided to take some children on an adventure with us. The result was our first little book The Pink Gumboot Adventure.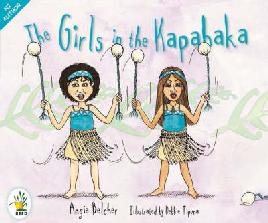 Do you have a special place where you write your books?
Our house is on a cliff overlooking the ocean. I love to sit on the deck and write.
What's the best thing and worst thing about being a writer?
The best thing is seeing children reading my books and writing me letters.
The worst thing is editing stories again and again and again until they are perfect.
If you weren't a writer, what would you like to be?
A story teller!
What advice would you give to aspiring writers?
Use your own experiences to enrich your writing. Think about how things smell, taste and sound. Think about how you would feel or react in certain situations. Put yourself in your character's shoes. It's hard to write about things you don't know about or understand.
Read some books by Angie Belcher
More information about Angie Belcher
This interview is from 2002.