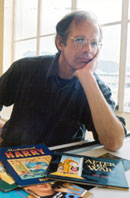 Name: Bob Kerr
Date of birth: 17 March 1951
Now living in: Wellington
What is your favourite food?
My fresh hot bread straight out of the oven on Saturday morning.
Do you have a nickname and if so what is it?
None that I know of.
What was your most embarrassing moment?
When I was thirteen I remember eating a meringue at the same time that somebody else told a very funny joke. I used this incident in my book The Paper War. Check it out on page seventeen.
How do you relax?
I like to get in my sea kayak and paddle around Wellington harbour.
Who inspired you when you were little?
My parents always provided pencils, paint and paper and encouraged me to draw.
What were you like at school?
I recently found some of my old primary school reports. My favourite comments were; Bob does not stir easily to work and spends too much time daydreaming.
What was your favourite/most hated subject at school?
My favourite subject was geography because I had a brilliant and inspiring geography teacher at high school. My book After the War, is really a book about geography.
My most hated subject at school was maths. Teachers used to be allowed to hit kids in class when I was at school and I had a maths teacher who did a lot of hitting so I associate maths with physical violence and I stayed right away from it.
What was the book you most loved as a child?
I can't remember the name of my favourite book. It was a picture book that showed two kids going for a walk in the country. The top half of the page illustrated the landscape they were walking through and the bottom half of the page showed that landscape on a map. I wonder if anyone out there in cyberspace can remember this book and can tell me its name? It was published in England in the late forties or early fifties.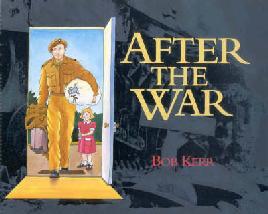 Which person from the past would you most like to meet?
I'd like to meet Herman Sporing. He was an artist on Captain Cook's ship the Endeavour. The first pakeha to illustrate New Zealand. Some of his drawings are reproduced in Anne Salmond's wonderful history book Two Worlds.
Who is your favourite author/children's author?
Jack Lasenby, opens a new window. Jack's books about Uncle Trev and Harry Wakatipu make me laugh out loud. I was very pleased when I was asked to do the cover illustrations for these books.
Why did you want to be a writer?
I was an illustrator before I became a writer. I learnt to write so that I would have my own stories to illustrate.
Do you have a special place where you write your books?
I have an office in Courtenay Place in Wellington where I go every day just like a normal job.
What's the best thing and worst thing about being a writer?
The best thing about writing is when I hear that somebody has really enjoyed one of my books. There is no worst thing about being a writer.
If you weren't a writer, what would you like to be?
I also work as a painter and illustrator and I enjoy doing that as well.
What advice would you give to aspiring writers?
Don't try to be flash, just write simply and honestly about subjects you know well.
Read some books by Bob Kerr
More information about Bob Kerr
Bob Kerr's website