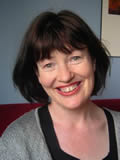 Name: Brigid Feehan
Date of birth: 12 July 1961
Place of birth: Wellington
Now living in: Wellington
What is your favourite food?
Potatoes, done any way whatsoever. Tomatoes, apples, chippies.
Do you have a nickname and if so what is it?
Bee.
What was your most embarrassing moment?
I have many, many embarrassing moments. Choosing one is not just difficult, it's impossible. Trying to think of the most embarrassing moment gave me a sleepless night. Reliving embarrassing moments is not recommended as a run up for a soothing sleep.
How do you relax?
First of all I avoid remembering embarrassing moments. Walking and swimming are my favourite forms of exercise and I do quite a bit of both. I feel really relaxed after doing exercise. Reading is my favourite form of sitting-down relaxing. Having a laugh with good friends is very relaxing too.
Who inspired you when you were little?
Jo in Little Women, by Louisa May Alcott; Anne in Anne of Green Gables, by L. M. Montgomery. Two really cool heroines who faced adventures and adversity head on. I also loved reading true stories about women who did amazing things. Women like Jean Batten the pilot, Florence Nightingale the nurse, Joan of Arc the warrior and Marie Curie the scientist. I have to admit I also thought my next door neighbour, an older girl called Anne, was inspiring. Partly because she was called Anne, but mainly because she could sit on her hair.
What were you like at school?
Generally pretty quiet but I could get huge attacks of the giggles that would get me in mild trouble. I liked school. I liked hanging out with my friends and I didn't mind school work. Sometimes I found it really stimulating, learning new things. There were boring bits of course. And rough patches when you can't seem to get the school work or the friends bit right.
What was your favourite/most hated subject at school?
Favourite: English; least favourite: Maths.
What was the book you most loved as a child?
That is almost as hard as the embarrassing moments question. As I said above, I loved Little Women and the Anne of Green Gables books. I also loved anything by Noel Streatfeild (Ballet Shoes, etc), the Narnia series by C. S. Lewis, the Moomintroll series by Tove Jansen, The Little White Horse by Elizabeth Goudge.
Which person from the past would you most like to meet?
I would love to meet Jane Austen, Leonardo Da Vinci, Florence Nightingale, my great-grandparents…
Who is your favourite author/children's author?
Children's authors - currently Joy Cowley and Anne Fine.
Why did you want to be a writer?
I always loved reading and wanting to write books grew out of my love of reading.
Do you have a special place where you write your books?
Yes, upstairs in the spare room.
What's the best thing and worst thing about being a writer?
The best thing is that you are doing something that you love doing. Time just flies. The worst thing is, um, I can't think of a worst thing.
If you weren't a writer, what would you like to be?
A postie, a scientist, a ballerina, a musician. There are very sound reasons why I am none of these things.
What advice would you give to aspiring writers?
Most important is: read as much as you can. Secondly, write as much as you can: diaries, emails, even lists! Just practise!
Read some books by Brigid Feehan
More information about Brigid Feehan
This interview is from 2006.