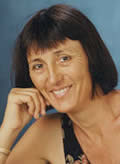 Name: Brigid Lowry
Date of birth: 25 March 1953
Place of birth: Auckland
Now living in: Nelson
What is your favourite food?
My favourite meal would be grilled salmon with buttery mashed potato and fresh asparagus. Sticky date pudding with cream, and a glass of champagne.
Do you have a nickname and if so what is it?
When I was a baby I was nick-named Wol because I was chubby and owly like the Owl in Winnie The Pooh. Now I am a grown-up I don't have a nick-name.
What was your most embarrassing moment?
Too many to name! Sometimes my mouth moves quicker than my brain. Oops!
How do you relax?
Reading, walking, day-dreaming, movies, music, travel, picnics.
Who inspired you when you were little?
Fabulous books and interesting, creative people.
What were you like at school?
Quiet, awkward, shy, plain.
What was your favourite/most hated subject at school?
Favourite: English
Most hated: Maths
What was the book you most loved as a child?
I liked The Hobbit, by J. R .R. Tolkien, Bunchy (author unknown), Drovers Road, by Joyce West, and The Phantom Tollbooth, by Norton Juster.
Which person from the past would you most like to meet?
Frida Kahlo. Janis Joplin.
Who is your favourite author/children's author?
I can't name just one. I have heaps of authors I love to read. Oh, all right then… Barbara Kingsolver and Russell Hoban.
Why did you want to be a writer?
I love books, words, poetry, stories and ideas. I like not working 9-5, and being paid to tell fibs.
Do you have a special place where you write your books?
I write at my computer in my study, surrounded by things I love, like photographs, things made of blue glass, coloured pencils.
What's the best thing and worst thing about being a writer?
It's creative and you get to sleep in! (best). Sometimes it is very lonely and hard to think of new things to write about (worst).
If you weren't a writer, what would you like to be?
A jazz singer or a rich person who lived in the Caribbean and swam, ate, read and snorkelled all day.
What advice would you give to aspiring writers?
Read a lot. Apply lots of bum glue. Believe in yourself. Then go for it.
Read a short story online by Brigid Lowry
Read some books by Brigid Lowry
More information about Brigid Lowry
This interview is from 2005.