Name: David Hill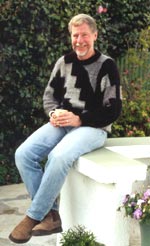 Date of birth: 1942
Place of birth: Napier
Now living in: New Plymouth
What is your favourite food?
Fried potatoes.
What was your most embarrassing moment?
Sticking my finger accidentally up a stranger's nose.
How do you relax?
Reading, tramping, astronomy, playing with my grandkids.
Who inspired you when you were little?
Various people in Scouts.
What were you like at school?
Small, shy, not much good at sport, though I liked it.
What was your favourite/most hated subject at school?
Favourite: English. Most hated: Maths.
What was the book you most loved as a child?
The Boy from London, by Peter Lethbridge.
Which person from the past would you most like to meet?
Albert Einstein the scientist.
Who is your favourite author/children's author?
Author: Maurice Gee, opens a new window.
Children's authors: Joy Cowley, opens a new window and Margaret Mahy, opens a new window.
Why did you want to be a writer?
Because it means you're making things, and that's a great feeling.
Do you have a special place where you write your books?
A desk in a small room, by our back porch. I sit looking at the neighbour's side wall.
What's the best thing and worst thing about being a writer?
Best thing: being your own boss; meeting other writers; meeting your readers. Worst thing: worrying about not finding ideas, and having stories rejected by editors.
If you weren't a writer, what would you like to be?
An astronomer.
What advice would you give to aspiring writers?
Read heaps. The more you read, the more ideas you get.
Don't throw any of your writing away.
Start sending work away to places like The School Journal.
Read some books by David Hill
More information about David Hill
Read posts featuring David Hill from the Christchurch Kids Blog.
This interview is from 2002.