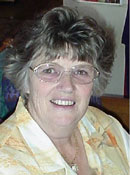 Name: Diana Margaret Menefy
Date of birth: 6 June 1947
Place of birth: Christchurch
Now living in: Tapuhi Valley, Hukerenui, Northland
What is your favourite food?
Homemade icecream (double chocolate with big lumps of dark chocolate).
Do you have a nickname and if so what is it?
Di.
What was your most embarrassing moment?
Losing my cool at a meeting.
How do you relax?
Reading.
Who inspired you when you were little?
Jo, from Little Women by Louisa M Alcott.
What were you like at school?
Quiet, and good at sports.
What was your favourite/most hated subject at school?
My favourite subject was English.
My most hated was French.
What was the book you most loved as a child?
Freckles, by Gene Stratton Porter.
Which person from the past would you most like to meet?
My old English teacher from Form 4-6 — Mr Richards.
Who is your favourite author/children's author?
My favourite author is Rosamunde Pilcher.
My favourite children's author is Sherryl Jordan, opens a new window.
Why did you want to be a writer?
I don't know. I just always have. Maybe part of it is the thrill you get when you weave a story together and it works — makes someone laugh, cry or just feel good.
Do you have a special place where you write your books?
I have an office on a mezzanine floor with big glass windows that give me a view across the paddocks to the hills.
What's the best thing and worst thing about being a writer?
The best thing about being a writer is 'the writing'.
The worst thing is having to promote yourself.
If you weren't a writer, what would you like to be?
A photographer.
What advice would you give to aspiring writers?
Never give up. Keep on reading and trying to improve your skills. Write every day.
Read some books by Diana Menefy
More information about Diana Menefy
Diana Menefy's website
Read posts featuring Diana Menefy from the Christchurch Kids Blog.
This interview is from 2002.