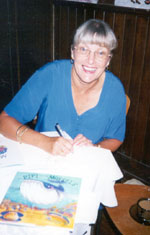 Name: Dot Meharry
Date of birth: 29 February 1948
Place of birth: Taumarunui
Now living in: Thames
What is your favourite food?
Rice pudding! — only my mother can make it just right!
Do you have a nickname and if so what is it?
'Dotty' is the closest I ever got to a nickname. It's more of an endearment.
What was your most embarrassing moment?
Tripping up as I climbed onto the underground train in London and sprawling across the floor with my legs poking out. The doors opened and shut — opened and shut. The contents of my bag were strewn everywhere and no one offered to help. It was awful.
How do you relax?
Walking at the beach at Pauanui with my husband Jack. Also love to be with my grandchildren — Mitchell, Emma and Jack.
Who inspired you when you were little?
Pippi Longstocking. I loved my weekly visits to the library.
I went to a small country school. It was great and I have wonderful memories. Then high school… I was the only girl from the small primary school going into the large high school. It was not easy — I enjoyed sports. Then was dreadfully homesick when I went away to training college. I enjoyed study but loved netball and athletics.
What was your favourite/most hated subject at school?
Physics — Yuk!
French — Yes.
What was the book you most loved as a child?
Pippi Longstocking, by Astrid Lindgren
Which person from the past would you most like to meet?
A teacher whose class I was in as a student teacher. I was very shy — she very demanding. She didn't think I had chosen the right career!! I was terrified of her. I wouldn't be now!! Even adults can be bullies.
Who is your favourite author/children's author?
Joy Cowley. Her stories are inspirational.
Why did you want to be a writer?
I like putting down on paper the experiences of those in my life… funny stories, etc. Then I discovered I had a way with words and text for teaching reading.
Do you have a special place where you write your books?
My office. I can hear the birds and look out to the trees. It's very peaceful.
What's the best thing and worst thing about being a writer?
Best — a story being accepted.
Worst — rejections!
If you weren't a writer, what would you like to be?
An Olympic ice skater but I'm too old for that now so I'd be a harmonica player. I'm learning now. My husband Jack is very long-suffering.
What advice would you give to aspiring writers?
Never give up. If rejected, edit again and keep trying. Seek out good advice and read read read other authors' publications.
Read some books by Dot Meharry
Read posts featuring Dot Meharry from the Christchurch Kids Blog.
This interview is from 2006.