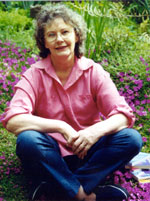 Name: G. Brassi is my shortened name; Gretchen Brassington is the longer version
Date of birth: 23 November 1942
Place of birth: Wanganui
Now living in: Hamilton
What is your favourite food?
Umm? There are so many! I'm quite a glutton for chocolate-fudge sauce and liquorice. I'm a bit of a mixture, because when I'm not eating junk food I love raiding the fruit and veggies in my own garden.
Do you have a nickname and if so what is it?
A small child began calling me Brassi, and it stuck.
What was your most embarrassing moment?
I've had a few. Once I got stuck head first in the front locker of our small launch, Why Worry. I was painting the inside of the anchor locker, and I was expecting our first child. My middle was too fat to budge, and I had to be pulled out backwards by my feet. Very embarrassing.
How do you relax?
I read. I can read in the car, going up and down over waves, when people are talking to me - I can read anywhere. When my children were small I used to hide in the loo to read.
Who inspired you when you were little?
My older sister. She was a great reader and storyteller. She used to make up plays and we acted all the parts. I adored my brother too. He led me into all sorts of adventures. My parents' hair would have turned white if they'd known what we used to get up to.
What were you like at school?
A mouse. Except for the one year I spent in a little country school near the New Plymouth wharf. For some reason the atmosphere there was right for me, and I was as brave as a lion. It was great having one good year. It gave me the confidence to know that I can do anything, if I just want to enough.
What was your favourite/most hated subject at school?
My favourite subject was curiosity. I found it in English and Geography, and History too when I was allowed to do projects instead of just remembering political dates. My worst subjects were team sports and Maths. But I didn't hate the maths, I just couldn't do it.
What was the book you most loved as a child?
The Chums annuals. They were big books absolutely loaded with great stories for boys. I loved the adventures they contained - Captain Sinister Sails Again, The Phantom On Skis, stories like that. My brother and I read them together, lying on the floor.
Which person from the past would you most like to meet?
My father. We used to have great conversations, and I miss his gentle, good judgement.
Who is your favourite author/children's author?
Fleur Beale. I think her stories are great. Also I owe her a lot as she encouraged me to try writing myself.
Why did you want to be a writer?
I had such a fabulous childhood I think there's a place deep inside me that doesn't want to grow up. I don't want to leave the adventures behind.
Do you have a special place where you write your books?
I'm lucky, my workroom is big and full of pictures and music and dozens of hobbies. It's why I'm such a slow writer, there are so many distractions.
What's the best thing and worst thing about being a writer?
While I'm writing I'm often right inside my story, mouth dry with terror or heart thumping with excitement. I type flat out to see how the story is going to come out in the end. It's like reality TV, only much better, because it's my own made up story and I can change it. The worst thing about writing, and some of the other interests I have, is that I can't do them all day and every day. Boring things like shopping and housework have to be done too. Ho hum.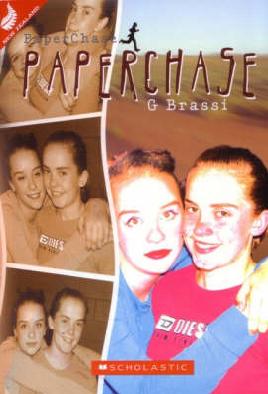 If you weren't a writer, what would you like to be?
An illustrator. I long to be an illustrator. I wish, I wish!!
What advice would you give to aspiring writers?
Write a lot, and don't throw out your good stuff. Keep a box of your stories somewhere so that when you decide to make writing your career you will have a store of childhood memories as you really felt about them at the time.
You don't have to be special to be a writer. You only have to want to be one.
Read a short story by G. Brassi
Read some books by G. Brassi
More information about G. Brassi
This interview is from 2002.