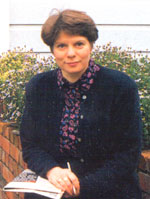 Name: Jane Tolerton
Date of birth: 24 April 1957
Place of birth: Auckland
Now living in: Wellington
What is your favourite food?
Really fresh Royal Gala apples.
Do you have a nickname and if so what is it?
I don't think I have one now. (I'll have to ask my friends if they call me something behind my back!)
What was your most embarrassing moment?
I have new embarrassing moments every day.
How do you relax?
I go aqua-jogging - and I've just bought a radio ear-phone thing so I can listen to the radio at the same time. Also I lie in the bath and read.
Who inspired you when you were little?
Stories of people in history inspired me - like Edith Cavell, a nurse in World War One who was executed.
What were you like at school?
I think I always gave the impression I wasn't paying attention, and I admit that I probably was thinking about something else at any given moment because I got bored easily. But I always made sure I passed things because I wanted to have choices later on.
What was your favourite/most hated subject at school?
My favourite subject was History.
My worst was Maths - and the Maths teacher told me I "didn't deserve" to get School Certificate maths - but I did pass (57%) by being very neat and showing my working even if it was wrong.
What was the book you most loved as a child?
Probably Little Women, by Louisa May Alcott. It might have been Anne of Green Gables, by L. M. Montgomery - but I wouldn't read it because my mother loved it. I finally read it when I was sick, aged 20, and really liked it.
Which person from the past would you most like to meet?
I'd loved to have met Ettie Rout. I wrote her biography, and I'd love to have even an hour with her to ask the questions I couldn't find answers to.
Who is your favourite author/children's author?
J.K. Rowling! But also Kate De Goldi in N.Z. for the children's/young persons' author.
Why did you want to be a writer?
I wanted to tell amazing real life stories, mainly to inspire myself - but also other people. That's why I wrote Ettie and did oral histories.
Do you have a special place where you write your books?
I have to admit that I often write in bed - which is bad for the body.
What's the best thing and worst thing about being a writer?
The best is being in another world - especially a world you are creating yourself.
The worst might be that it's hard to make a living writing - but, for me, it's that it's hard to do - and easy to put off in favour of things that have to be done.
If you weren't a writer, what would you like to be?
A photographer (and I keep planning to do something about that - like take a course).
What advice would you give to aspiring writers?
Do it! You can be put off by thinking it won't be good enough. You won't know if you don't get it done. Develop your own instincts. If you think it works, it probably does. The bits you have a "wobbly" feeling about don't work. You have to face that and put them right - or get rid of them.
Read some books by Jane Tolerton
More information about Jane Tolerton
This interview is from 2002.