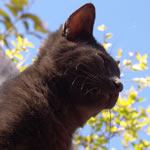 High on a hill, as high as can be,
Way up in the sky and under a tree.
In an old wooden house with a slip-slidy roof,
Lived a dog called Poppy and a cat called Spoof.
Now they'd lived together for many a day,
Along with a mouse whose name was Faye.
And sometimes at night they would gather together,
And sing to the moon, no matter the weather.
Poppy would howl and Spoof would wail,
And Faye would squeak and wiggle her tail.
And during the day they would snooze and sleep,
All huddled together in a hairy heap.
Now, one day in Summer they were resting a while,
All snuggled up in a cozy pile,
When Faye, she suddenly wanted a drink,
And squeezed out, feeling all hot and pink.
As she waddled off to find somewhere cool,
A shadow appeared like a big, dark pool.
Suddenly Faye was whisked away,
And where she was going she couldn't say.
Her friends woke up to see her fly
In the foot of a harrier, high in the sky.
'Don't worry - we'll save you' they called out loud,
As poor little Faye disappeared in a cloud.
Poor Poppy and Spoof could do nothing but stare,
As their dear little friend went high in the air.
But they were not daunted, and they were not scared,
But to save their friend they must be prepared.
Prepared to take on monsters and such,
Maybe Squinters or Scrunchers or even a Smuch!
They both set off - their mission was clear,
They must save their friend, regardless of fear.
Bounding and running and slipping and sliding
They followed the bird as they watched it gliding.
Their nostrils were flaring, their whiskers were quivering,
As their toes squished through mud
Their thoughts they were spinning.
How could they possibly save poor Faye
With the harrier taking her so far away.
Suddenly the harrier lowered its glide,
'I think it's landing!' Poppy cried.
The harrier came down in a raupo bed,
Its eyes all aglow and its wings all spread.
Faye peeped out from the harrier's claws,
She was stuck there tight like in a mouse-trap's jaws.
She wriggled and jiggled and squiggled and squirmed,
Twisting and squeezing and trying to turn.
Nothing she did could release the grip
Of the harrier's claws as it neared its chick.
'Oh my! oh my!' cried poor little Faye,
'Oh why are my friends so far away?'
Then all of a sudden there came a sound,
And a definite rumbling on the ground.
Screeching and barking and feeling so brave
Came the two heroes with a maid to save.
Lurching and pushing their way through the reeds,
The noise and the howling would do what they need.
The harrier was startled, it jumped in surprise,
With its wings all a-flapping and its eyes open wide.
The birds legs lifted, and what do you know,
Little Faye fell onto the ground below.
Then suddenly Poppy and Spoof appeared,
Making such a din that the harrier veered,
Just in time for Poppy to shout
'Jump on my back Faye - we'll get you out!'
Faye scrambled up, along Poppy's tail,
While Spoof kept up with a screech and a wail.
Then Poppy and Spoof turned tail and ran.
Saying 'Faye, hold on as tight as you can.'
They ran and they ran for most of the day,
'Til the harrier was a long long way away.
Soon the three friends were homeward bound,
Where they all cuddled up in a warm, hairy mound.
So if you are ever as high as can be,
Up high in the sky and under a tree,
Look out for Poppy and Spoof and Faye,
They'll be happy to greet you any day,
And tell you the tale of the rescue of Faye.
© Janet Marshall
Read our interview with Janet Marshall, opens a new window.