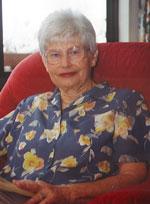 Name: Janet Pates
Date of birth: 22 March 1935
Place of birth: Pukekohe
Now living in: Tuakau (in the Franklin District)
What is your favourite food?
My friend Bev's fig and chocolate cake.
What was your most embarrassing moment?
Losing the button off my knickers. (It was during the war, and you couldn't buy elastic, so the button was what held them up!)
How do you relax?
Reading, walking, gardening.
Who inspired you when you were little?
My first teacher. She was very pretty and wore a striped dress.
What were you like at school?
Quiet. Usually had my nose in a book.
What was your favourite/most hated subject at school?
Favourite - English. Most hated - Maths.
What was the book you most loved as a child?
The Coral Island, by R. M. Ballantyne.
Which person from the past would you most like to meet?
King Arthur.
Who is your favourite author/children's author?
Adult: T. H. White. Children's: Vince Ford or Fleur Beale (it's a toss up!).
Why did you want to be a writer?
Because I've always loved books and admired writers.
Do you have a special place where you write your books?
Yes. A small room with my computer, lots of children's drawings and photographs.
What's the best thing and worst thing about being a writer?
Best: seeing your book in the bookshops. Worst: worrying that you might never get a good idea again.
If you weren't a writer, what would you like to be?
An entomologist (someone who studies insects).
What advice would you give to aspiring writers?
Read a lot, and write a lot. Start when you are young, and keep going even when you get rejected.
Read a short story by Janet Pates
Read some books by Janet Pates
More information about Janet Pates
This interview is from 2005.