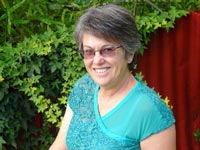 Name: Jeannie McLean
Date of birth: 28 May 1952
Place of birth: Cowra, Australia
Now living in: Auckland
What is your favourite food?
Lamb chops, strawberries (not together).
Do you have a nickname and if so what is it?
When I was at school, one friend always called me 'Mac'.
What was your most embarrassing moment?
If I say, early teens, trying to impress a young man, halter neck dress and no bra, does that give you a clue?
How do you relax?
Reading, movies, walking, gardening.
Who inspired you when you were little?
My mum, and at high school, teachers who took an interest and encouraged me.
What were you like at school?
Talkative, interested, involved.
What was your favourite/most hated subject at school?
Favourite: English and History; the one I struggled with: Maths (but I went on to pass Statistics 1 at Uni)
What was the book you most loved as a child?
Which person from the past would you most like to meet?
Who is your favourite author/children's author?
Why did you want to be a writer?
I grew up in a family of readers who enjoyed words. My English teacher encouraged me to enter a short story contest which I won. Then, I thought it was possible to be a writer.
Do you have a special place where you write your books?
I am fortunate now, to have my own writing room. It is set up with a new computer, a large bookshelf and a couch for those thinking moments. Before that the kitchen table.
What's the best thing and worst thing about being a writer?
The best thing living lots of different lives in my head. The worst thing it is hard work.
If you weren't a writer, what would you like to be?
A very good singer.
What advice would you give to aspiring writers?
If you want to write, then write. Believe you can do it.
Read a story by Jeannie McLean
Read some books by Jeannie McLean
More information about Jeannie McLean
This interview is from 2002.